It's burger season, ya'll!  National Hamburger Week and the Memorial Day holiday are all the signals South Louisiana needs to fire up the grill and break out the buns.  Put away the propane crawfish boiling rigs; summertime backyard burger bashes are firing up all over Acadiana.
"Who has the best burger in Acadiana?" is the question I repeatedly get ever since I appeared on the nationally televised Food Network Challenge "Build A Better Burger" competition a few years back and cooked up a Cajun recipe for one of the best burgers in America. My Bluesiana Burger with Mardi Gras Slaw, Root Beer Glaze, and Zydeco Sauce has become legendary in burger circles, and now some folks see me as a burger expert. I'm no expert, but I do know what I like.
So, once and for all, I am going to answer that question, by proclaiming what I think are the Best Burgers in Acadiana. First, let me qualify my picks with three simple rules of engagement: 1) Local Acadiana burgers only; no national chain restaurants, 2) Beef burgers only, and 3) Quality of the burger only, without regard to sides, ambiance, service, or price.  Here's my list of the Best Burgers in Acadiana in no particular order, and be sure to leave a comment for the burger joints I missed; I'll be updating this list.
___________________________
Bread & Circus Provisions
It's been the talk-of-the-town for some time now, as Manny Augello has raised the burger bar with his signature Juicy Lucy. Two grass-fed, hand-formed beef patties enclosing a block of sharp cheddar are cooked to perfection. This molten, cheese-filled explosion of flavor sits atop a buttered and toasted Poupart's brioche bun slathered with house-made caramelized onion mayo, and it's all dressed for presentation. Take a bite, and you'll see what all the talk is about.
258 Bendel Rd, Lafayette, Louisiana 70503
___________________________
Angelle's Old Fashion Hamburgers
From the colorful exterior signage to the funky interior, there's no mistaking this is a righteous burger joint. Order up!  I'll take a Lil Jimmy–add cheese, please–with O-rings.  There are lots of dining options on the Main drag in downtown Breaux Bridge, but Angelle's, with its cheeseburger and extra crispy onion rings, has become a hot spot for a down-home burger.
110 E Bridge St., Breaux Bridge, Louisiana 70517
___________________________
Mandez's
What was once a drive-thru daiquiri joint, Mandez's grill, owned by partners Ryan Manfre and Jeff Hernandez (Man-dez, get it?), has an eclectic menu anchored by perhaps the perfect burger.  The 1855 Burger (with American cheese) is built on a thick, hand-pressed, seasoned patty with just the right beef-to-fat ratio to ensure it cooks up juicy.  And the soft, brioche-like bun with a slather of Creole aioli, fresh Roma tomatoes, greens, and dill slices, seals this burger deal.  There are lots of burger options on this menu, and a few (like the Ragin' Cajun Burger with grilled jalapeños) are reason to return.
110 Doucet Rd., Lafayette, Louisiana  70503
___________________________
Cajan's Eatery
When I say this is a hole-in-the-wall, local eatery, I mean that with the utmost respect.  Cajan's, opened in 2007 by local Jan-Scott Richard (Cajan: his name is Jan, get it?), has a broad menu of plate lunches, salads, and sandwiches, but it is the burgers (13 listed on the menu) that this little joint is becoming known for.  And their claim to fame is the Dixie Burger: A generously portioned, hand-pressed beef patty matches up with a griddled bun that's spiced up with house-made chipotle mayo.  It's all crowned with melted pepper jack, crispy bacon, and grilled onions, and decked out with lettuce, tomato, and pickles.  It's a tasty mouthful.
5802 Cameron St., Scott, Louisiana 70583
___________________________
Fat Pat's
"Never Trust A Skinny Cook," reads the words inscribed below the sign in this burger joint. You can certainly trust this cook with the artfully spiced 7-ounce ground beef patty that takes center stage on the Little Boy Burger. It's a well-stacked burger dressed to the nines with lettuce, tomatoes, raw onion, on an artisan bun. I added Cheddar (no American, here). It comes with a mound of fries, but I substituted a side Caesar salad for a buck extra. There are lots of creative burger choices, but you can't go wrong with the single-patty signature burger here. And for convenience in getting your burger fix, there are three locations in Acadiana.
626 Verot School Rd., Lafayette, Louisiana 70508
117 Westmark Boulevard, Lafayette, LA 70506
3900 NE Evangeline Thwy #100, Carencro, LA 70520
___________________________
Frosto
As one online reviewer put it, "Frosto is a fat kid's dream and a health nut's nightmare," and I couldn't have said it better. And if it's shakes, fries, burgers, and a 1950s jukebox vibe you're looking for, then Frosto will  rock your world. Their compact Cajun Burger with cheese is a must-have: American cheese oozing over a Cajun-seasoned, scratch-made beef patty with griddled onions is a juicy mouthful. And although I don't judge on price, it's hard to argue with $3.59 (cheese added).
228 N Ave G, Crowley, Louisiana 70526
___________________________
Broaddus Burgers
Broaddus is all about creatively building the perfect burger. In fact, you will be able to build your own custom burger from bun to bun. They offer customers a selection of buns, meats, cheeses, and a list of toppings so long you may have to read it twice. These are meaty burgers with a balance of spice and flavor, but the kicker here is the long list of signature versions and unique add-ons that bring meaning to the "build."  Broaddus delivers the goods.
610 E Kaliste Saloom Rd, Lafayette, LA 70508
___________________________
David and Lori's Kitchen
There's no David; no Lori, either. They sold the kitchen to Kellie and Courtney Courville (the new owners), and they are cornering the burger market in this corner of Evangeline Parish. This a serious burger joint in a nondescript metal building—about as plain and simple as it gets. But their deep-fried (yes, fried) Kajun Deluxe burger is worth the drive to Mamou. It's two Cajun-seasoned beef patties pressed together to enclose a slice of American cheese; the meat is then double battered and fried golden brown in 375ºF oil. Then it's stacked on a mayo-slathered bun with lettuce, tomato, onion, and pickle. The crackle of the crisp burger with the juice of the 80/20 ground chuck mixes with the oozing of melting cheese. This unique Cajun recipe may not be a burger you'll eat everyday unless you're lucky enough to live near Mamou.
1400 Poinciana Ave, Mamou, Louisiana 70554
___________________________
Pete's
Pete's is back! And it's as if it never went away.  Thanks to the Krampe operation (SOCIAL and Charley G's), this iconic mainstay of the "burger and beer" crowd is back, and it's cranking out a full menu of bar food favorites.  But it's The Big Pete burger that keeps the place packed. It's a well-built, broad-shouldered, meat lover's burger that packs just enough heat to make you know you're in Cajun country.
3903 Johnston St., Lafayette, Louisiana 70503
___________________________
Rocket Drive Inn
If you want a tasty old-fashioned hamburger with a side dish of nostalgia, then head over to Jennings and drive up to The Rocket. This is an old school, order-at-the-window burger joint that's been cranking them out since the 60s. Lots of choices here, but you want the Old Fashioned Burger, or make it a Jumbo like me. The hand-formed beef is griddled on a flat top and dripping with juice (and grease) that makes this burger perfection. Sit at one of the outdoor picnic benches and sip on your chocolate shake while you wait; it's a trip back in time!
1118 State St.,  Jennings, Louisiana 70546
___________________________
Morvant's Bar and Grill

This Cajun roadhouse in the heart of Youngsville serves up an ambitious menu, but it's the old-fashioned burgers they are famous for (350 sold per day). With just enough Cajun spice, the ¼-pound beef patty is griddled and served up on a fresh Evangeline Maid bun all wrapped up in wax paper. I got the half-pound (I was hungry) double-meat cheeseburger and an ice-cold beer. The burger-to-bread ratio is perfectly balanced with a minimal dressing of condiments and garnish. It's all about the beef here!
200 Lafayette St., Youngsville, Louisiana 70592
___________________________
Judice Inn
A rite of passage since 1947 for every home-grown Lafayette kid who is big enough to belly-up to a booth for a Saturday lunch, this is a spiritual burger.  I just call it The Hamburger.  I always order the Double Cheeseburger–double-stacked beef and American cheese with raw onion on the side.  Cooked on a flat-top griddle, served on a store-bought bun, and wrapped in wax paper, it is an indescribably simple combination that I find hard to write about.  This is the burger I would expect to have while standing in line outside the Pearly Gates.  And I probably won't get fries there either.
3134 Johnston St., Lafayette, Louisiana 70503
___________________________
So, that's my Best Burger list, and I'm sure I missed a few of your favorites.  Leave a comment and let me know; they just might make this Best Burger list when I update it next.
In the meantime, enjoy my Cajun recipe (read the story here) for what could be the Best Burger I've ever made–the Coffee-Rubbed Short Rib Burger.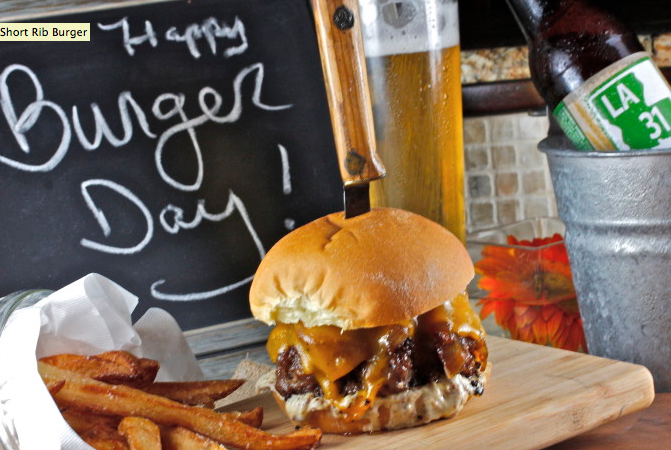 Coffee-Rubbed Short Rib Burger with Cajunized Onions, Beer-Melted Cheddar and Creolaise Sauce
Recipe by:
George Graham - AcadianaTable.com
Ingredients
Coffee Dry Rub (Makes 2 ½ cups)
½ cup dark roast whole bean coffee, finely ground
½ cup dark brown sugar
½ cup kosher salt
½ cup garlic powder
½ cup coarsely ground black pepper


Creolaise Sauce
1 cup mayonnaise
½ cup Creole mustard or coarse-grained mustard
1 tablespoon hot sauce


Cajunized Onions
2 large yellow onions, peeled
1 tablespoon extra-virgin olive oil, plus more if needed
1 tablespoon unsalted butter, plus more if needed
1 tablespoon sugarcane molasses
1 tablespoon Acadiana Table Cajun Seasoning Blend, see recipe here
Freshly ground black pepper


Short Rib Burger
4 pounds bone-in short ribs
½ pound beef fat, cubed
Kosher salt
4 hamburger buns, split
4 tablespoons unsalted butter, softened
8 slices sharp cheddar cheese
1 (12-ounce) bottle of beer
Instructions
Coffee Dry Rub
In a mixing bowl, add coffee, brown sugar, salt, garlic powder, and pepper and mix well to combine evenly. Cover and move to the side.


Creolaise Sauce
In a mixing bowl, add the mayonnaise, mustard, and hot sauce. Stir together until combined. Cover and refrigerate.


Cajunized Onions
Slice the ends off the onions and then slice horizontally into medium width rings. Separate the rings.
In a wide, heavy cast-iron skillet over medium heat, melt the butter and add the olive oil. Add as many onions as will fit into the skillet without overcrowding. The key is for the surface of the onions to connect to the bottom of the skillet. Cook the onions rapidly moving them around the pan until they become translucent and then remove to a platter. Complete in stages with the rest of the onions adding more oil and butter if necessary.
Add all the onions back to the pan and add the cane molasses. Increase the heat to medium-high and continue to sauté as they take on a caramelized, browned appearance and you begin to smell the rich onion flavor. With your spatula, scrape the bottom of the pan and keep the onions from burning. Lower the heat if the onions are cooking too fast. Continue cooking until caramelized. Add the Cajun seasoning along with freshly ground black pepper to taste. Remove the skillet from the heat and keep the onions in a warm place.


Short Rib Burger
For dry-aging the beef, begin two days before. Remove the short ribs from the package. Rub them with kosher salt and place them meat-side down on a wire rack over a tray lined with paper towel. Refrigerate uncovered overnight, so the salt will remove water from the beef.
The next morning, remove the tray and discard the soaked paper towels. With a dry cloth, remove the excess salt from the meat. Place the short ribs meat-side up on the tray and return to the refrigerator uncovered for 24 hours or overnight.
Remove the tray and place the short ribs on a wooden cutting board. The short ribs will be drier with the beef denser and concentrated with flavor. With a sharp boning knife, remove the meat from the bone making sure to retain all the fat. Carefully remove all silver skin and tough sinew from the meat. Cut the beef into 1-inch cubes of even size. Refrigerate the meat.
Remove the extra beef fat from the refrigerator, cut into small ½-inch cubes and refrigerate.
When ready to grind (or food process) the meat, remove the grinder or container and blade from the freezer and assemble for use. Remove the meat and the fat from the refrigerator and combine the two being sure to distribute the fat evenly.
Begin the first grind as a coarse grind to combine the meat and break down the pieces. After you have completed grinding it all, inspect the ground meat to pick out any hard pieces or sinewy cuts. Place the ground meat back into the refrigerator so that it becomes ice cold.
Once cold, return the meat for another grind to achieve a smaller grind which is more typical of store-bought ground meat. Once completed, move the meat to a cutting board and shape into 4 (8-ounce) patties.
Sprinkle the top side only of the burger patties generously with the coffee dry rub and place on a platter. A trick I learned along my burger adventures is how to prevent your burgers from having that dome-shaped middle after cooking. Simply, press your thumb into the middle of the seasoned top side of each burger making a slight depression. Once cooked, the burgers will be perfectly smooth on top.
Preheat a large heavy cast-iron skillet over medium-high heat. Add the patties to the hot pan with the seasoned side facing up. Once the meat hits the flat surface of the pan, do not move it, and certainly do not press down on it. Let the meat cook for 3 minutes on the bottom side. With a flat spatula, flip the burgers over to the seasoned side and continue cooking for two minutes more to yield a rare burger with juices running. Don't worry if you are not a rare burger fan; there will be one more round in the skillet to cook longer to your desired degree of doneness. For now, remove the burgers to a warm platter and let rest for at least 5 minutes.
Place a large pan on low heat. Lightly butter the inside top and bottom buns. Place the buns cut-side down in the pan and toast until just brown. Remove the pan from the heat and keep warm.
To assemble the burgers, move the buns to a cutting board. Slather the bottom half of the bun generously with the Creolaise sauce.
With a lid handy, place the large cast-iron skillet back over high heat.
Meanwhile, place a portion of the caramelized onions onto the seasoned top of each of the four burger patties. Once the skillet is hot, add the burger patties topped with the onions back to the pan and cook to your desired degree of doneness. Quickly place two slices of cheese on top of the onions on each burger patty. Immediately pour a splash or two of the beer into the sizzling hot pan and quickly cover. Over the next 30 seconds, the beer will begin evaporating into steam that will bring the cheese to a perfect melting consistency. Turn the fire off and remove the cover.
Move the burger patties to the waiting bottom buns and cover with the top bun. Serve with more ice-cold beer along with hand-cut french fries.
Notes
When buying the bone-in short ribs, the rule of thumb is 50/50 meat to bone ratio, so buy twice as many pounds as the amount of ground meat you will need. Remember, fat is flavor, and while most short rib has a good fat ratio, I add extra beef fat to achieve about a 75/25 mix. So, save up and freeze trimmed fat from your other beef purchases for your burger making. Grinding the short ribs can be done in a meat grinder – manual or electric. Or, an even easier option is to use your food processor. Either way, be sure to keep the blade and container ice cold – in the freezer is best – to prevent the beef fat from melting during processing. Overworking the beef with warm hands along with the friction heat of processing will almost always lead to a dense, tough burger. Keep it cold.
YOUR SEAT AT THE TABLE: 
If you like this Cajun cooking story and Cajun recipe then accept my personal invitation to subscribe by entering your email at the bottom or top right of this page.  It's quick and painless.  You will receive an email alert and be the first to see when new Cajun cooking stories and Cajun recipes are added.  Thanks, George.