Griddled Graffiti Eggplant with Meyer Lemon Parsley Vinaigrette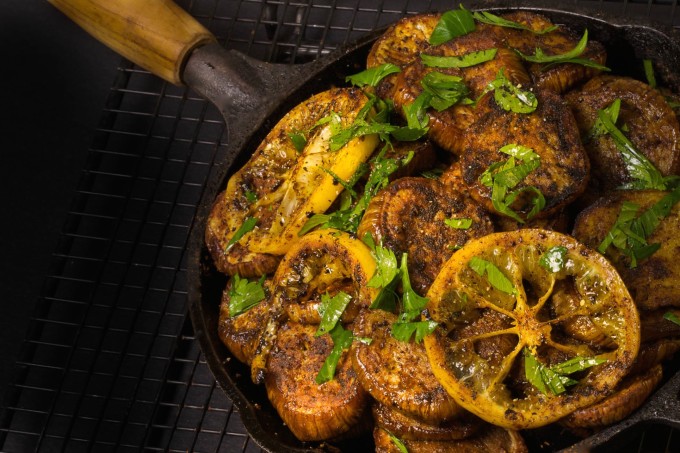 Recipe by:
George Graham - AcadianaTable.com
2 tablespoons light brown sugar
2 tablespoons ground cumin
1 tablespoon ground coriander
1 tablespoon chili powder
1 tablespoon sweet paprika
1 teaspoon ground cinnamon
1 teaspoon ground allspice
1 teaspoon ground ginger
½ teaspoon. cayenne
½ teaspoon turmeric
½ teaspoon ground cloves
4 eggplants, washed and stemmed
Olive oil cooking spray
Kosher salt
4 tablespoons olive oil
2 tablespoons Sweet Heat seasoning
4 thin slices lemon
¼ cup freshly squeezed lemon juice
1 tablespoon Dijon mustard
1 teaspoon sugar
1 teaspoon freshly ground black pepper
½ cup extra virgin olive oil
½ cup chopped fresh parsley leaves
In a large mixing bowl, mix all spice ingredients together and place in an airtight jar.
Preheat the oven to 350ºF.
Cut the eggplant into ½-inch thick rounds and place on a large baking tray. Spray the eggplant top and bottom with olive oil spray. Sprinkle lightly with salt. Bake for 30 minutes or until all eggplant rounds are partially cooked through. Remove from the oven.
In a mixing bowl, add the olive oil and seasoning. Stir to combine.
In a large stainless steel or cast-iron skillet over medium-high heat, spray with more olive oil spray. Add the eggplant slices along with the slices of lemon and brush the tops lightly with the seasoning. Cook until browned, about 5 minutes. Turn and brush the other side and cook until the tops are crispy and browned. Prior to serving, mound the eggplant rounds inside a clean skillet and move to an oven set on warm (150ºF).
In a mixing bowl, add the lemon juice, mustard, sugar and black pepper. While whisking, slowly drizzle in the olive oil until an emulsion forms. Add the chopped parsley and keep at room temperature for later use.
Just before serving, drizzle the crispy tops of the eggplant with the lemon parsley vinaigrette. Garnish with the grilled lemon slices and serve family style in the center of the table.
Recipe by
Acadiana Table
at https://www.acadianatable.com/2021/12/20/griddled-eggplant/