Fettuccine with Softshell Crabs Amandine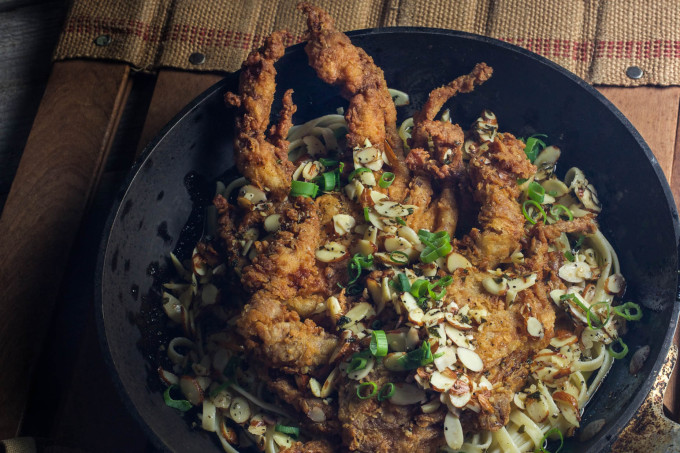 Recipe by:
George Graham - AcadianaTable.com
4 large softshell blue crabs, cleaned
1 gallon canola oil
2 cups unbleached all-purpose flour
2 tablespoons Cajun seasoning
1 cup half and half
1 cup buttermilk
1 tablespoon hot sauce
Kosher salt and freshly ground black pepper to taste
1 cup (2 sticks) unsalted butter
1 cup sliced almonds, toasted
2 tablespoons chopped flat-leaf parsley
1 tablespoon minced garlic
3 tablespoons freshly squeezed lemon juice
Zest of ½ lemon
4 cups cooked fettuccine noodles
1 cup diced green onion tops
Rinse the crabs and pat dry with paper towels to remove any moisture. Place them on a platter lined with paper towels.
In a deep pot over medium-high heat, add the oil. Bring to a temperature of 375ªF.
In a shallow container, add the flour and seasoning, and blend.
In a shallow container, add the half and half along with the buttermilk and hot sauce. Stir to blend.
Remove the crabs and sprinkle lightly with salt and pepper. Place the crabs in the liquid and then dredge in the seasoned flour. Roll them to coat on both sides.
Shake off any excess flour from each crab and place in the hot grease, being careful not to crowd the pot. Fry the crabs until golden brown on both sides, 5 to 8 minutes. Remove to a paper towel-lined platter and keep warm. Repeat until all the crabs are cooked.
In a large skillet over medium-high heat, melt 2 sticks of butter. Add the almonds and stir the mixture, watching as they begin to brown, about 5 minutes. Turn the heat off and add the parsley and garlic along with the lemon juice and lemon zest.
For serving, place the cooked and drained fettuccine in the center of a platter or skillet. Pour half of the sauce over the pasta and toss to coat the noodles. Add the crabs on top along with the remaining amandine sauce. Garnish with green onion tops.
I like the added crispiness of deep-frying the crabs rather than pan-sautéing.
Recipe by
Acadiana Table
at https://www.acadianatable.com/2021/05/24/fettuccine-softshell-crabs-amandine/