Fried Green Tomato Shrimp Rémoulade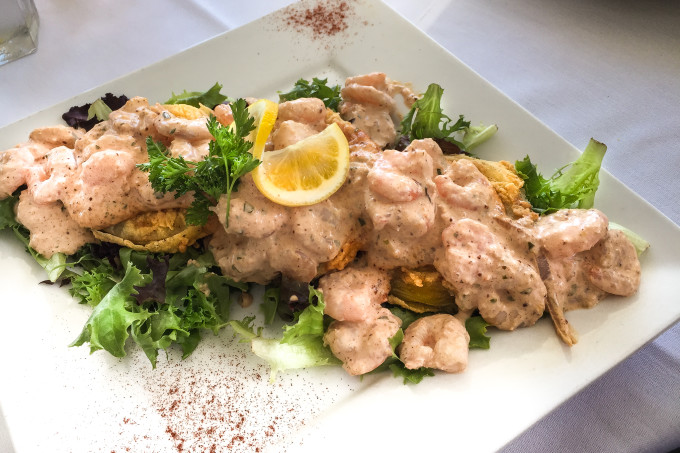 Recipe by:
George Graham - AcadianaTable.com
1 gallon water
½ cup salt
1 bag shrimp boil seasoning or ½ cup Acadiana Table Cajun Seasoning Blend, see recipe here
1 whole lemon, halved
2 pounds large (21 – 25 count) raw shrimp, heads, shell and tails removed
3 cups quality mayonnaise, such as Blue Plate
½ cup Creole mustard, such as Zatarain's
1 tablespoon Worcestershire
1 tablespoon hot sauce
1 teaspoon Acadiana Table Cajun Seasoning Blend, see recipe here
1 teaspoon paprika
1 tablespoon freshly squeezed lemon juice
1 tablespoon prepared horseradish
1 tablespoon ketchup, plus more if needed
1 tablespoon finely minced garlic
2 tablespoons chopped capers
2 tablespoons sweet pickle relish
2 tablespoons finely diced celery
2 tablespoons finely chopped flat-leaf parsley
1 tablespoon finely diced green onion tops
Kosher salt and freshly ground black pepper
2 cups all-purpose flour
1 tablespoon cayenne pepper
1 large egg
1 cup buttermilk
Dash of hot sauce
2 cups yellow cornmeal
2 tablespoons Acadiana Table Cajun Seasoning Blend, see recipe here
1 cup peanut oil

2 large green tomatoes, sliced ½-inch-thick
2 cups firmly packed lettuce leaves
Lemon slices, for garnish
Parsley sprigs, for garnish
In a large pot over high heat, bring the water to a rolling boil. Add the salt, bag of shrimp boil seasoning and lemon halves. Continue to boil for 5 minutes as the water seasons.
Add the shrimp and boil for 2 minutes and turn off the heat. Let the shrimp sit in the water for 5 minutes until they turn pink. Test for doneness and then remove. Cover and chill in the refrigerator.
In a large mixing bowl, add the mayonnaise. Whisk in the mustard, Worcestershire, hot sauce, seasoning blend, paprika, lemon juice, and horseradish. Add the ketchup and whisk together. Add more ketchup if needed to achieve a pinkish color.
Add the garlic, capers, relish, celery, parsley, and green onion. Stir to combine and add salt and pepper to taste. Cover and refrigerate.
Add the flour to a shallow bowl and blend in the cayenne.
In another bowl, whisk one egg with the buttermilk and a dash of hot sauce and set aside.
Blend the cornmeal with the Cajun seasoning in a shallow pan and set aside. In three different stations, line up the flour, egg mixture, and cornmeal.
In a cast-iron skillet over medium heat, add the peanut oil and bring to 375ºF. Coat each tomato slice in flour and shake off the excess. Submerge into the egg mixture and place in the seasoned cornmeal breading. Pat firmly so the cornmeal sticks to each side of the tomatoes and move to a wire rack. Gently add the breaded tomato slices to the hot oil making sure not to crowd the pan. Fry on 1 side until browned and turn once with a spatula and continue frying until golden brown, about 2 minutes on each side. Move the fried tomatoes back to the wire rack and season with sea salt immediately.
For serving, add a bed of lettuce on a plate and place fried green tomato slices on top. Add a portion of shrimp and spoon on the rémoulade sauce. Garnish with lemon slices and sprigs of fresh parsley.
Make the rémoulade sauce ahead and let it chill for the flavors to meld. You can serve this on one large platter for sharing or on individual plates. A rémoulade sauce should be spicy, but feel free to adjust the seasonings to your taste. This sauce is excellent with fried fish as well.
Recipe by
Acadiana Table
at https://www.acadianatable.com/?p=12713