Shredded Short Rib Sandwich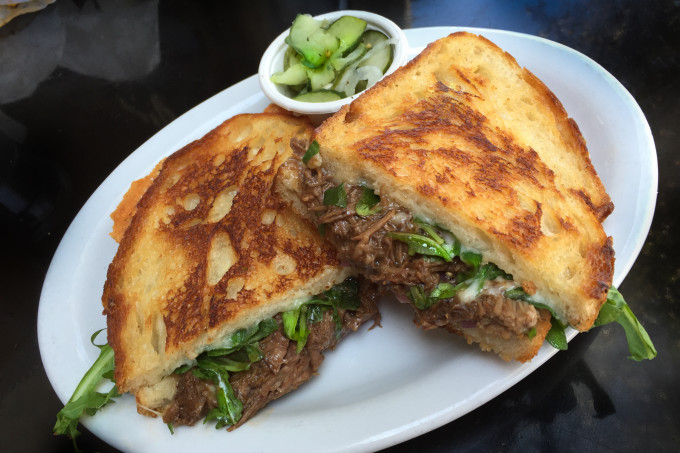 Recipe by:
George Graham - AcadianaTable.com
3 pounds bone-in beef short ribs
Kosher salt and freshly ground black pepper
4 tablespoons all-purpose flour
3 tablespoons canola oil
1 cup roughly chopped yellow onion
1 cup roughly chopped celery
1 tablespoon minced garlic
1 teaspoon Acadiana Table Cajun Seasoning Blend, see recipe here
Dash of hot sauce
½ cup red wine
1 cup beef stock, plus more if needed
1 stick butter, softened
8 slices sourdough bread
4 slices pepper jack cheese
1 cup loosely packed micro greens
Remove the short ribs and let come to room temperature. Sprinkle lightly with salt and pepper. Lightly coat the beef with flour and move to a platter.
In a cast-iron pot with a heavy lid over medium-high heat, add the oil. Once hot, add the short ribs and brown on all sides, about 10 minutes. Add the onion and celery and continue cooking until the onions just begin to brown, about 5 minutes. Add the garlic, seasoning, and just a dash of hot sauce along with the wine. Continue cooking for 3 minutes as the wine burns off some of the alcohol and then add the stock. Lower the heat to a simmer and cover. Cook for 1 hour.
Uncover and make sure there is still plenty of liquid to cover the beef, if not add more stock. Turn the short ribs over and cover. Cook for 1 hour longer.
Uncover and check to see that the beef is fork-tender and the liquid has thickened. Turn off the heat and let cool. Using two forks, begin shredding the meat in the gravy until completely broken down. Remove the bones. Keep the beef warm on the stovetop.
Butter the top of each slice of bread. In a large skillet over medium-high heat, add a slice of bread, butter-side down, and cook until it begins to brown. Add a slice of cheese and some of the greens along with a generous portion of shredded beef to the bread and cover with another slice of buttered bread. With a spatula, flip the sandwich and grill the remaining side. Repeat until all the sandwiches are done. Serve with hot sauce and pickles on the side.
Recipe by
Acadiana Table
at https://www.acadianatable.com/2015/09/21/shredded-short-rib-sandwich/