Cajun-Fried Steak with Boudin Cream Gravy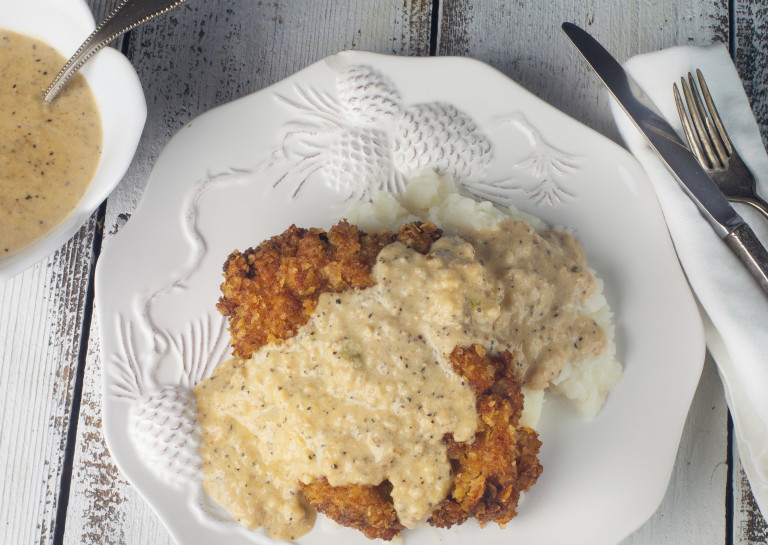 Recipe by:
George Graham - AcadianaTable.com
Peanut oil, for frying
4 (8-ounce) tenderized beef round steaks
Kosher salt and freshly ground black pepper
2 (9.5-ounce) bags kettle-fried potato chips, preferably Zapp's Crawtator chips
2 cups unbleached all-purpose flour
2 cups buttermilk
½ pound cooked boudin sausage, removed from the casing (see link to recipe in Notes)
4 tablespoons unbleached all-purpose flour
1 (12-ounce) can evaporated milk
1 cup whole milk
Kosher salt and freshly ground black pepper
Mashed potatoes, for serving
In a large skillet over medium-high heat, add enough oil to a depth of ¼ inch and heat to 375ºF.
Using a heavy kitchen mallet, pound out the cubed steaks until they are thin. Sprinkle lightly with salt and pepper.
Open the bag of chips slightly and squeeze the middle of the bag repeatedly until all the chips are broken up. Empty the bag into the container of a food processor and pulse until the chips resemble coarse Panko bread crumbs. Empty the ground chips onto a platter.
Coat the steaks lightly with flour and then dredge quickly in the buttermilk. Add the steaks to the crushed chips and press on both sides until coated. Move each steak to a platter.
Add the steaks one at a time to the hot oil. Fry until golden brown and the meat is cooked through, about 5 minutes. Move each of the steaks to a wire rack and keep warm.
Pour off most of the oil from the frying pan reserving 4 tablespoons of the grease along with all of the remaining crunchy bits and pieces. Heat the grease over medium-high heat and add the crumbled boudin. Saute until the boudin begins to brown. Sprinkle with flour, stir into the oil, and make a blond roux by cooking it just long enough to remove the raw flour taste. Add the evaporated milk and stir to combine. As it comes to a simmer and thickens, begin thinning it out by adding the whole milk. Continue adding milk until it reaches a gravy thickness or thick enough to coat the back of a spoon. If needed, add water to thin it out. Add salt to taste along with a heavy dose of black pepper. Keep warm for serving.
On a platter, add a mound of mashed potatoes and top it with a Cajun-fried steak. Spoon the boudin cream gravy over the meat and potatoes, and serve with more gravy on the side.
Recipe by
Acadiana Table
at https://www.acadianatable.com/2017/02/13/cajun-fried-steak/