Fried Eggplant with Crawfish Étouffée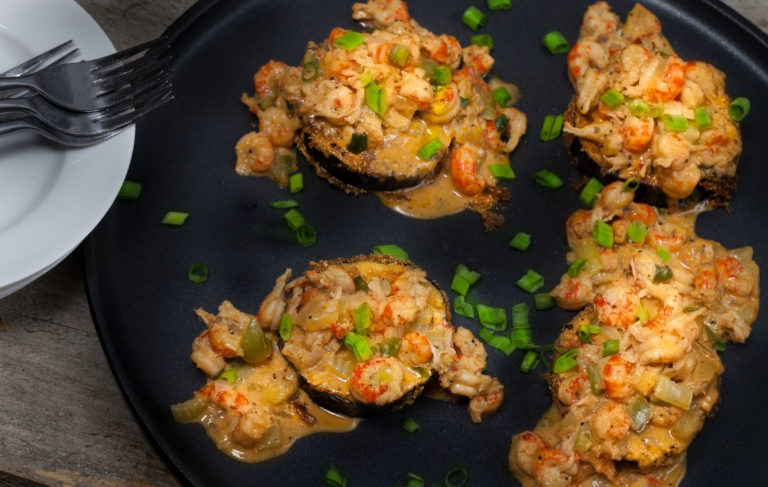 Recipe by:
George Graham - AcadianaTable.com
1 stick unsalted butter
1 cup diced yellow onion
½ cup diced green bell pepper
½ cup diced celery
½ tablespoon minced garlic
1 pound Louisiana crawfish tail meat
1 tablespoon all-purpose flour
½ cup seafood stock
½ teaspoon cayenne pepper
Kosher salt and freshly ground black pepper
Dash of hot sauce
1 large eggplant
Kosher salt
Peanut oil
1 cup all-purpose flour
1 tablespoon Acadiana Table Cajun Seasoning Blend, see recipe here
1 large egg, beaten
½ cup whole milk
1 teaspoon hot sauce
1 cup unseasoned bread crumbs
½ cup diced green onion tops
In a large cast-iron skillet over medium-high heat, melt the butter. Add the onion, bell pepper, and celery, and sauté until the onions turn translucent, about 5 minutes. Add the garlic, lower the heat to simmer, and stir to combine. Add the crawfish tail meat and stir to combine. Sprinkle the flour over the mixture, stir to incorporate, and add the stock. Stir until the stock thickens into a tight sauce-like consistency, about 5 minutes. Let simmer for 5 minutes longer and then turn off the heat. Keep warm until ready to serve.
Slice the eggplant into 4 rounds of uniform 1-inch thickness. Place on a plate lined with paper towels. Sprinkle both sides with salt and place in the refrigerator for at least 1 hour or overnight.
In a large pot with at least 3 inches of oil over medium-high heat, bring the temperature of the oil to 350ºF.
Remove the eggplant from the refrigerator and using paper towels remove any excess moisture or surface salt.
In a shallow bowl, add the flour and seasoning. Stir to combine.
In a shallow bowl, add the egg, milk, and hot sauce; whisk to combine.
In a shallow bowl, add the bread crumbs.
Dip each eggplant round into the flour; add to the egg mixture; and coat with the bread crumbs.
Add the coated eggplant to the hot grease and fry until golden brown on both sides, 5 to 8 minutes. Remove and drain on paper towels. Lightly sprinkle with salt.
For serving, add the eggplant rounds to a platter and spoon a generous portion of étouffée over each. Sprinkle with green onion tops and serve family style as an appetizer.
This recipe version of crawfish étouffée is more like a sauce (less liquid) than a true stew-like étouffée. It is best to peel your crawfish, but packaged tail meat (Louisiana, of course) is a huge time-saver and works just fine. If you use the packaged, be sure to add a little water to the fat inside the bag to get all the flavor out.
Recipe by
Acadiana Table
at https://www.acadianatable.com/?p=19824