Salmon and Shrimp Salad with Grapefruit Vinaigrette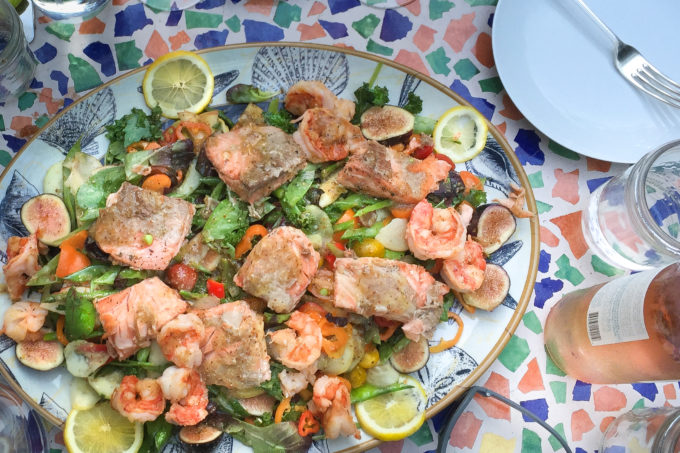 Recipe by:
George Graham - AcadianaTable.com
1 tablespoon Creole mustard
2 tablespoons red wine vinegar
¼ cup freshly squeezed grapefruit juice, seeds removed
1 teaspoon sugar
Extra-virgin olive oil
Kosher salt and freshly ground black pepper
1 ½ pounds salmon fillets, bones removed
1 pound jumbo (16/20 count) shrimp, peeled and deveined
2 tablespoons Acadiana Table Cajun Seasoning Blend, see recipe here
2 tablespoons olive oil
½ cup dry white wine
4 cups spring mix salad greens
½ cup fresh basil
½ cup fresh arugula
½ cup fresh dandelion greens
½ cup sliced cucumbers, peeled
½ cup sliced carrots
½ cup red and yellow cherry or grape tomatoes, halved
½ cup sliced mini sweet peppers
1 cup sugar snap peas
6 fresh figs, stems removed and halved
4 slices fresh lemon
In a mixing bowl, add the mustard, vinegar, and grapefruit juice as well as the sugar. Whisk the mixture while slowly drizzling the olive oil. When the emulsion is complete, taste and add salt and black pepper to your desired level. Be sure not to over-salt since the seafood will have a natural saltiness. Cover and refrigerate.
Rinse and pat dry the salmon fillets and shrimp. Lightly sprinkle with Cajun seasoning.
In a large skillet with a lid over medium-high heat, add the olive oil. Once sizzling hot, add the shrimp and sauté until they turn pink and are cooked through (but not overcooked), about 5 minutes. Remove and keep warm.
In the same skillet, add the salmon fillets and sauté on one side only until browned on the exterior, 3 to 5 minutes. Immediately add the wine and lower the heat to a simmer. Cover and let the fish poach until done (the flesh will flake with a fork), about 5 minutes. Using a spatula, carefully remove the fillets to a platter and hold at room temperature.
On a large platter, begin building the salad by laying the base spring mix lettuce and other greens around. Place the cucumbers, carrots, tomatoes, peppers and peas in and around the greens. Lay the fresh figs around the edge and garnish with lemon slices.
Position the fish and shrimp on top and spoon over a bit of the dressing. Serve the remaining dressing on the side.
Poaching the salmon adds flavor and moisture, but feel free to grill the fish if you like. The fish and shrimp in this recipe can be refrigerated ahead and served cold. I've suggested various salad greens and vegetables, but you should use what is seasonally fresh in your area. As a simpler option, feel free to dress this salad with extra-virgin olive oil only. Heads up: The only way to mess this up is to overcook the fish and shrimp; watch carefully since cooking time will vary with the size of your seafood and the heat of your stovetop.
Recipe by
Acadiana Table
at https://www.acadianatable.com/2018/06/11/salmon-and-shrimp-salad/