Griddled Corn, Tasso, and Gruyere Panini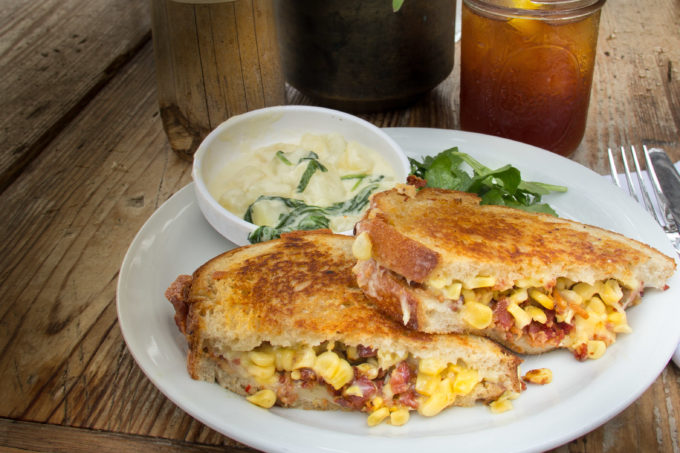 Recipe by:
George Graham - AcadianaTable.com
2 large ears fresh yellow corn, husks and silk removed
2 tablespoons unsalted butter
1 cup finely diced tasso or smoked ham
8 slices sourdough bread
4 tablespoons jalapeño mayo
1 cup grated Gruyere cheese
Sea salt
With a sharp knife, cut the kernels of corn off the cob, scraping as close to the cob as possible. In a skillet over medium heat, add 1 tablespoon of the butter and heat until melted. Add the corn and tasso, and sauté until just warmed through, about 3 minutes. Using a slotted spoon, remove the corn and tasso to a paper towel-lined platter.
Add the remaining butter to the pan and melt. Turn off the heat. Using a brush, generously coat one side of each slice of bread with the butter.
Slather the bottom slice of bread with a light coating of jalapeño mayo.
Spoon on a portion of the corn/tasso mixture and top with a generous mound of Gruyere. Top with the other slice of bread and place butter-side-down in a hot skillet on medium heat.
Place a heavy pan on top of the sandwich and let it toast. Once golden brown, flip it over with a spatula and toast the other side until the cheese melts, about 7 minutes total.
Slice in half and serve while hot with a glass of iced tea and the side of your choice.
I sauté the corn to take the raw texture out of it, but if you like it raw, you can skip this step. I like the flavor that a bit of butter adds, but be sure to strain the butter off the corn and drain on a paper towel to eliminate excess oiliness. While most any bread will work, I like the sturdiness that sourdough brings to the structural integrity of the sandwich. Gruyere is a tasty melting cheese, but other cheeses (Swiss or Monterey Jack) will work as well. If you cannot find tasso, then use a finely diced smoked ham or even crumbled bacon for this recipe.
Recipe by
Acadiana Table
at https://www.acadianatable.com/2017/07/31/griddled-corn-panini/