Shrimp and Artichoke Sauté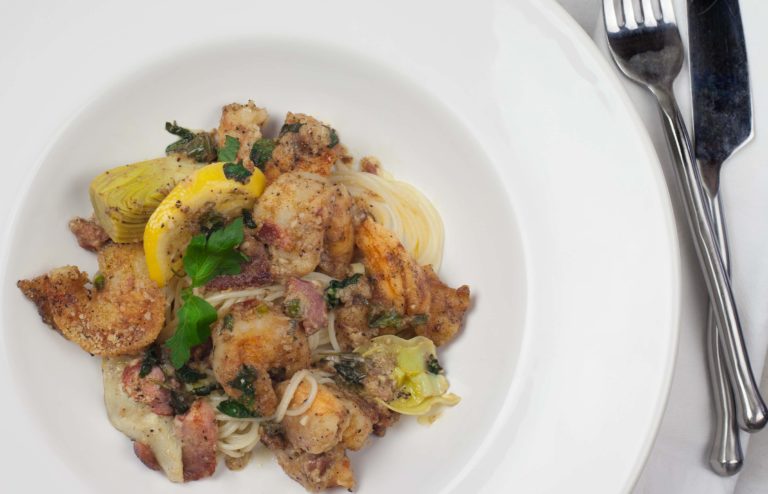 Recipe by:
George Graham - AcadianaTable.com
2 cups all-purpose flour
1 tablespoon granulated garlic
1 tablespoon paprika
2 dozen jumbo (16/20 count) Gulf shrimp, peeled, deveined, and butterflied
1 stick (8 tablespoons) unsalted butter
½ cup diced tasso or smoked ham
½ cup dry white wine
1 (14-ounce) can quartered artichoke hearts, packed in water and drained
1 tablespoon minced garlic
½ teaspoon dried thyme
½ cup diced green onion tops
½ cup chopped flat-leaf parsley
1 tablespoon coarsely ground black pepper
1 tablespoon Acadiana Table Cajun seasoning blend, see recipe here
4 slices lemon, seeds removed
¼ cup Parmesan cheese
6 cups cooked angel hair pasta, for serving
In a mixing bowl, add the flour, garlic, and paprika, and combine. Add the shrimp and coat.
In a large non-stick skillet over medium-high heat, add the butter and once it begins to sizzle, add the battered shrimp and tasso. Sauté the shrimp for 2 minutes on each side and deglaze with wine. Add the artichoke hearts, garlic, thyme, green onion, and parsley, and season with black pepper, Cajun seasoning, and lemon slices. Let the mixture cook for another 8 minutes until the flavors combine. Turn off the heat and let the mixture rest and the flavors soak in. Add the cheese and stir to combine.
Portion the pasta into 4 bowls. Spoon the shrimp and sauce over the pasta, evenly distributing the ingredients. Serve with plenty of hot French bread and hot sauce on the side.
I like to butterfly my shrimp by gently slicing lengthwise down the inside of the shrimp. The tasso is usually salty enough that you need not add any additional. This sauce will thicken slightly with the flour-dredged shrimp combining in the butter to form a blond roux. If it becomes too thick, just thin it out with a bit of water. Be sure to buy the artichoke hearts packed in water, not oil.
Recipe by
Acadiana Table
at https://www.acadianatable.com/2018/01/22/shrimp-artichoke-saute/