Chicken with 40 Cloves of Garlic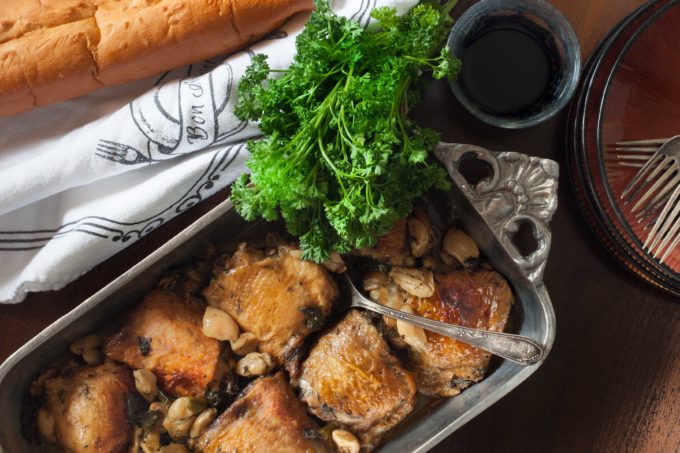 Recipe by:
George Graham - AcadianaTable.com
8 chicken thighs, bone-in, skin-on
40 cloves garlic, peeled
4 green onions, stem ends removed and roughly chopped
1 tablespoon dried herbes de Provence seasoning blend
1 cup dry white wine
2 cups chicken stock
2 sprigs fresh thyme
2 sprigs fresh tarragon
½ cup chopped curly-leaf parsley
Kosher salt and freshly ground black pepper
1 tablespoon unsalted butter
Preheat the oven to 375ºF.
Place the chicken in a cold (not preheated) cast-iron pot or Dutch oven with heavy lid, skin-side down. Turn the heat to medium and let cook undisturbed for 20 minutes. You will hear sizzling and see oil leaching from the skin, but do not be tempted to check the chicken.
Remove the pot from the heat and, using a metal spatula with a sharp edge, scrape up the chicken pieces along with the crust and fond underneath. Flip them over and inspect that the skin is browned and crispy. Remove and drain on paper towels.
Pour off all but 1 tablespoon of the grease from the pot, and add the garlic cloves, green onion, and herbes de Provence. Increase the heat to medium-high and sauté until the onions wilt and the garlic softens, about 5 minutes.
Add the wine and scrape up any bits from the bottom of the pot. Continue cooking until the wine reduces by half, about 8 minutes. Add the chicken pieces back to the pot. Pour in the chicken stock and add the thyme, tarragon, and parsley. Lightly sprinkle with salt and pepper.
Cover the pot with a tight seal by wrapping the opening with aluminum foil and then placing a heavy lid on top. The trapped heat and steam inside is the key to fully cooking the garlic cloves. Place in the hot oven and set a timer for 1½ hours. Do not remove the lid during cooking.
Remove the pot and uncover. Place the chicken pieces in a serving vessel. Remove the remaining stems from the herbs, and stir in the butter. Taste and add more salt and pepper if needed. Pour the sauce with all of the garlic over the chicken and serve immediately with crusty French bread.
Chicken thighs are my choice because of the long cooking time; breast meat tends to dry out. Save your rendered chicken fat; this schmaltz will add flavor to all kinds of recipes. I like the subtle flavor of white wine, but a bold brandy or vermouth will work. I love cooking with my favorite French seasoning blend herbes de Provence (with lavender buds, of course); it is easily found in most supermarkets or online. Be sure to use fresh thyme and tarragon sprigs; the floral scent will fill your kitchen.
Recipe by
Acadiana Table
at https://www.acadianatable.com/2021/05/03/chicken-40-cloves-garlic/