Peppered Pork Chops with Pineapple Jasmine Rice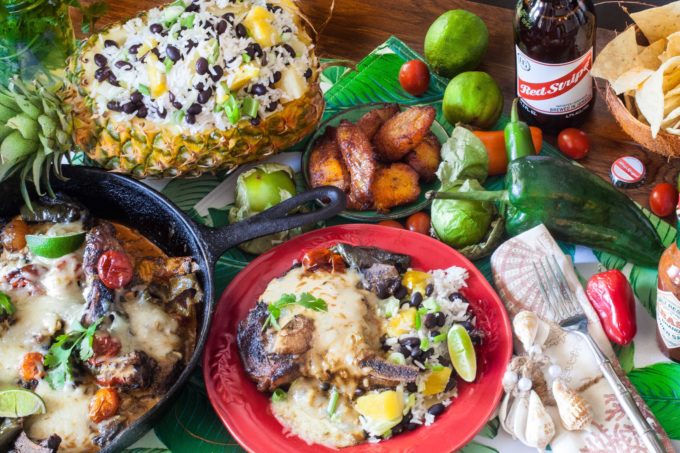 Recipe by:
George Graham - AcadianaTable.com
4 cups jasmine rice, such as Supreme
Water
1 cup pineapple, cut into ½-inch cubes
1 (15-ounce) can black beans, drained and rinsed
½ cup diced green onion tops
2 tablespoons olive oil
3 large yellow onions, peeled and thickly sliced
2 large red onions, peeled and thickly sliced
4 tomatillos, husks removed and thickly sliced
8 thin-cut, bone-in pork chops
Acadiana Table Cajun Seasoning Blend, see recipe here
Kosher salt and freshly ground black pepper
1 tablespoon chili powder
1 tablespoon Mexican oregano
1 tablespoon Bijol seasoning
2 tablespoons all-purpose flour
1 large poblano pepper, seeded and sliced into rounds
½ cup Peppadew peppers
1 fresh jalapeño pepper, seeded and diced
1 (4.5-ounce) can diced green chiles
½ cup cherry tomatoes
2 cloves garlic, chopped
3 cups chicken stock
1 (13.5-ounce) can coconut milk
2 tablespoons freshly squeezed lime juice
2 tablespoons cornstarch, if needed
1 cup chopped fresh cilantro
2 cups shredded pepper jack cheese
Lime wedges, for garnish
Cilantro stems, for garnish
Following the package directions, make the rice. While the rice is still warm, stir in the pineapple, beans, and green onions, and combine. Keep warm until serving.
Preheat your oven to 375ºF.
In a large cast-iron skillet, pot or Dutch oven with a heavy lid over medium-high heat, add the oil. Once sizzling hot, add the onions and tomatillos; let them cook without turning until charred on one side, about 6 minutes. Remove from the pan to a platter.
In the remaining grease, add the pork chops (do this in 2 batches if necessary) and let cook without turning until browned on one side, about 8 minutes. Sprinkle the chops with Cajun seasoning, salt, pepper, chili powder, oregano, Bijol, and sprinkle over the flour. Turn and let cook just until the flour begins to brown and the raw taste disappears, about 3 minutes.
Add all of the peppers, green chiles, tomatoes, and garlic, along with the charred onions and tomatillos. Pour over the chicken stock, cover the pot and place in the oven. Cook for 90 minutes.
Remove the pot and uncover. Add the coconut milk and lime juice, and place the pot back in the oven uncovered for 30 minutes.
Remove the pot and taste the sauce, and adjust to your taste. The sauce should be a gravy-like thickness to coat the back of a spoon. (If not thick enough, make a slurry with cornstarch and cold water and stir it in over high heat until it thickens.)
Before serving, add the chopped cilantro and cheese. Return the pot to the oven and bake just until the cheese melts, about 5 minutes. Serve family-style in the center of the table with the Pineapple Rice along with plenty of fresh limes and cilantro. Ice-cold Red Strip is a must.
I love serving this with a side dish of plantains; look for them in your local Latin market. My peppers are pretty tame by Jamaican standards, so feel free to amp it up with Scotch bonnets or habaneros, if you like. While optional, I like serving my Pineapple Rice in a "bowl" made by hollowing out a whole pineapple. Use the pulp to add fresh pineapple to your rice. Louisiana is home to a homegrown Jasmine rice made by my friends at Supreme Rice in Crowley, Louisiana; look for it in supermarkets across the region.
Recipe by
Acadiana Table
at https://www.acadianatable.com/2018/08/06/peppered-pork-chops-pineapple-jasmine-rice/