Chilled Seafood Salad with Two Dressings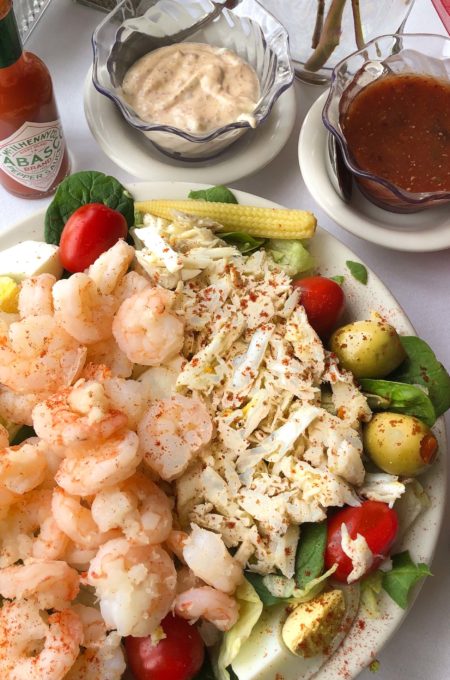 Recipe by:
George Graham - AcadianaTable.com
1 tablespoon Creole mustard
¼ cup red wine vinegar
1 tablespoon lemon juice
1 teaspoon sugar
1 cup extra-virgin olive oil (plus more if needed)
Kosher salt and freshly ground black pepper
3 cups mayonnaise
½ cup Creole mustard
1 tablespoon Worcestershire
1 tablespoon hot sauce
1 teaspoon Acadiana Table Cajun Seasoning Blend, see recipe here
1 teaspoon paprika
1 tablespoon freshly squeezed lemon juice
1 tablespoon prepared horseradish
1 tablespoon finely minced garlic
Kosher salt and freshly ground black pepper
2 quarts water
4 tablespoons liquid shrimp boil
2 pounds small, raw peeled Gulf shrimp
1 pound jumbo lump, Gulf blue crabmeat
2 cups spring mix lettuce greens
2 cups spinach leaves, stems removed
2 cups chopped iceberg lettuce
1 cup cherry tomatoes
2 hard-boiled eggs, quartered
1 cup pitted olives
2 lemons, quartered
1 cup canned baby corn
Old Bay seasoning
In a mixing bowl, add the mustard, vinegar, lemon juice, and sugar. Whisk the mixture while slowly drizzling the olive oil. When the emulsion is complete, add salt and black pepper to taste. Cover and refrigerate.
In a large mixing bowl, add the mayonnaise. Whisk in the mustard, Worcestershire, hot sauce, seasoning blend, paprika, lemon juice, horseradish, and garlic. Add salt and pepper to taste. Cover and refrigerate.
In a large pot over high heat, bring the water to a boil and add the shrimp boil seasoning. Add the raw shrimp and cook until they turn pink and are done, about 5 minutes. Remove and drain. Cover and chill.
Place the crabmeat into a mixing bowl and gently pick through and discard any shell pieces. Cover and chill.
In a large salad bowl, combine the spring mix, spinach, iceberg lettuce, and cherry tomatoes.
On individual chilled plates, place a generous serving of the salad mixture. Mound a 4-ounce serving of lump crabmeat and a pile of boiled shrimp to either side of the salad mixture. Place hard-boiled egg, olives, lemon wedges, and canned baby corn around the salad. Lightly sprinkle with Old Bay seasoning.
Remove the dressings from the refrigerator and pour individual portions in small cups or ramekins.
This is my recipe for Mary Mahoney's version, but get creative and feel free to use any fresh Gulf seafood you can find for your version. This dish is all about short prep time and light summer dining, so keep it casual. A crisp, cold Pinot Grigio would pair perfectly with this dish.
Recipe by
Acadiana Table
at https://www.acadianatable.com/2021/08/09/chilled-seafood-salad/