Curried Meatballs Skillet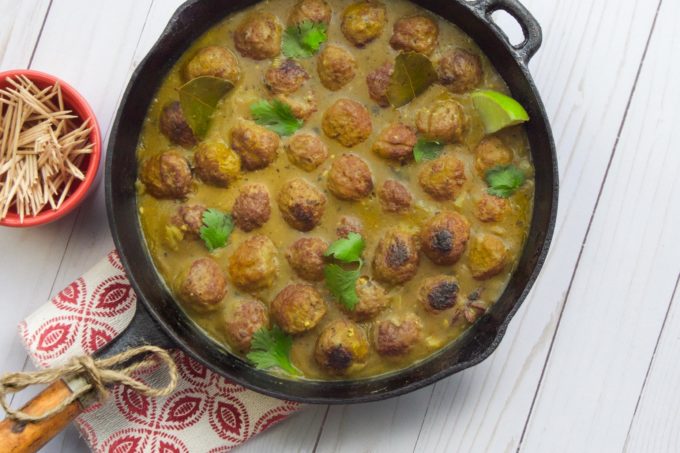 2 pounds ground beef
½ cup grated yellow onion
1 tablespoon Acadiana Table Cajun Seasoning Blend, see recipe here
2 teaspoons garlic powder
1 teaspoon ground ginger
1 teaspoon dried oregano
1 teaspoon Kosher salt
2 teaspoons freshly ground black pepper
2 tablespoons vegetable oil
1 tablespoon vegetable oil
1 cup finely diced yellow onion
1 tablespoon minced garlic
1 tablespoon ground ginger
4 tablespoons curry powder
2 teaspoons turmeric
1 teaspoon white pepper
½ teaspoon Kosher salt
1 teaspoon Acadiana Table Cajun Seasoning Blend, see recipe here
2 cinnamon sticks or 1 teaspoon ground cinnamon
2 (13.5 ounce) cans coconut milk
2 bay leaves
4 star anise
2 tablespoons honey
1 tablespoon freshly squeezed lime juice
¼ cup chopped cilantro
1 tablespoon cornstarch, optional
Cilantro leaves, for garnish
Lime wedges, for garnish
In a large mixing bowl, add the ground beef, onion, Cajun seasoning, garlic powder, ginger, oregano, salt, and pepper. Combine until thoroughly mixed. Form into bite-size balls approximately 1 inch in diameter.
In a skillet with a heavy lid over medium-high heat, add the oil. Once sizzling, add the meatballs and sear on all sides until browned, about 10 minutes. Add two tablespoons of water to the pan and cover. Let cook in the steam until the water evaporates, and the meat is fully cooked, about 10 minutes. Remove and keep warm.
In a large saucepan over medium-high heat, add the oil. Add the onion and cook until transparent, about 5 minutes. Add the garlic, ginger, curry powder, turmeric, white pepper, salt, Cajun seasoning, and cinnamon, and sauté 2 minutes. Add the coconut milk and bring to a boil. Lower the heat to a simmer and add the bay leaves, star anise, honey, lime juice, and chopped cilantro. Cook until the mixture begins to thicken, about 10 minutes.
Sample the sauce and adjust the seasonings to your taste by adding more salt and spice.
Optional: To thicken the sauce, make a slurry by combining equal parts cornstarch and cold water. Mix and add to the pan. Once it comes to the boil, it will thicken enough to coat the back of a spoon.
Combine the meatballs with the sauce and add back to the skillet. Garnish with cilantro leaves and lime wedges. Serve hot.
My recipe is just a starting point. Taste is subjective, so dial in the level of spice to your individual flavor profile; play with the spices until you get it right. Any leftovers (yeah, right) are delicious served over a mound of Jasmine rice. This dish freezes well and microwaves with perfect results.
Recipe by
Acadiana Table
at https://www.acadianatable.com/2019/07/22/curried-meatballs-skillet/