Baked Oysters with Collards and Cajun Hollandaise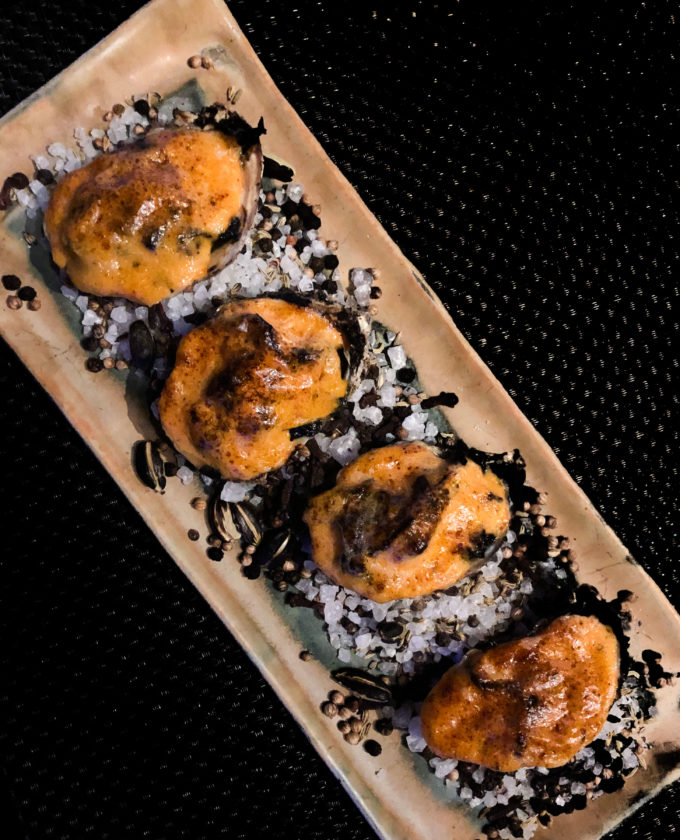 3 large egg yolks
1 tablespoon lemon juice
1 stick unsalted butter, melted
1 teaspoon Acadiana Table Seasoning Blend, see recipe here
Pinch of cayenne pepper
2 strips applewood smoked bacon, diced
½ cup finely diced yellow onion
2 cups collard green leaves, stems removed
Kosher salt and freshly ground black pepper
1 dozen Gulf oysters with their shells
Rock salt, for serving, optional
In a blender container, add the egg yolks and lemon juice and pulse until the mixture quickly lightens in color and is combined.
Turn the blender to low, remove the cover, and slowly drizzle in the melted butter. Once the butter is combined, and the sauce thickened, add the Cajun seasoning and a pinch of cayenne to taste. Pour the sauce into a bowl and gently stir to combine. Keep warm for serving.
In a skillet with a heavy lid over medium-high heat, add the bacon and sauté until crispy. Remove the bacon and reserve for later use.
To the bacon grease add the onions. Saute until translucent, about 5 minutes, and then add the collard leaves. Add 2 tablespoons of water to the skillet and cover. Let the collards steam and then lower the heat to a simmer and cook for another 15 minutes until all the liquid has evaporated and the greens are tender. Remove, drain, and let cool. Chop the greens with a sharp knife or pulse in a food processor until finely diced. Add the bacon bits back to the greens mixture.
Preheat your oven to 450ºF.
Place the oysters with their shells onto a baking tray or oven-proof dish lined with rock salt.
Layer each oyster with a spoonful of the greens mixture and top with a tablespoon of hollandaise.
Place the tray in the oven and let cook just until the sauce begins to bubble and brown on top. Remove and serve immediately.
The rock salt (studded with black peppercorns) is optional but makes a colorful presentation and helps to preserve the heat when serving. If you do not have the oyster shells, you can make this in a casserole dish or cast-iron skillet by pouring off the oyster juice and separating the oysters in the pan.
Recipe by
Acadiana Table
at https://www.acadianatable.com/2019/11/04/baked-oysters-collards-cajun-hollandaise/