Stuffed Bell Peppers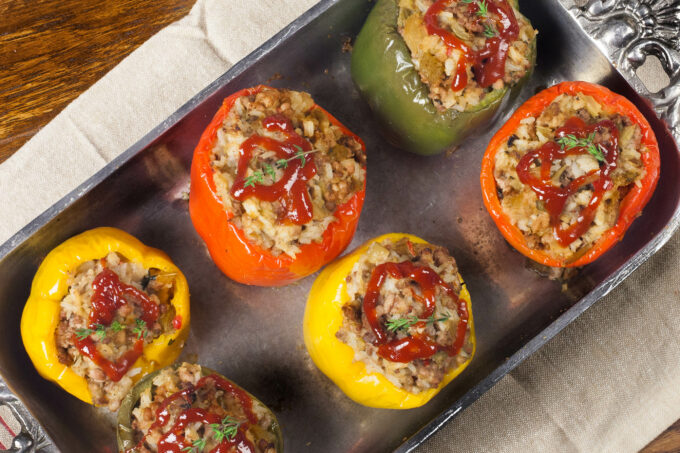 6 whole bell peppers
1 tablespoon vegetable oil
1 pound ground pork
1 pound (80/20) ground chuck
½ stick butter
1 cup chopped yellow onion
1 cup diced green bell pepper
1 cup diced celery
1 tablespoon chopped flat-leaf parsley
1 teaspoon fresh thyme
1 tablespoon minced garlic
1 teaspoon kosher salt
1 tablespoon freshly ground black pepper
1 teaspoon white pepper
1 teaspoon onion powder
1 teaspoon Acadiana Table Cajun Seasoning Blend, see recipe here
1 cup panko breadcrumbs
2 cups cooked white rice
1 cup chicken stock, if needed
Ketchup, for topping
Sprigs of fresh thyme, for garnish
Slice the tops off the peppers and discard. With a spoon, scrape out and discard seeds and ribs from inside the peppers forming a hollowed-out hull for stuffing. On a round microwave-safe platter, add the peppers. Cook on high for 10 minutes until softened. Remove and let cool.
Preheat your oven to 350ºF.
In a large skillet over medium-high heat, add the oil. Add the pork and beef and cook until it begins to brown, about 8 minutes. Drain the oil and remove the meat and let cool.
In the same skillet over medium-high heat, add the butter. Add the onion, bell pepper, celery, and cook until the onions turn translucent, about 5 minutes. Add the parsley, thyme, and garlic, and let cook for another 3 minutes. Season with salt, black pepper, white pepper, onion powder, and Cajun seasoning.
Add the meat to the vegetable mixture along with the breadcrumbs and white rice. Combine the mixture, and add a little chicken stock if the mix is too dry. The stuffing mixture should be wet and able to be formed into a ball.
Stuff the mixture into the hollowed-out peppers and drizzle with ketchup. Place in the hot oven and bake until the peppers are fully tender and the tops begin to brown, about 40 minutes. Garnish with a sprig of thyme.