Pork Chops with Apple Onion Gravy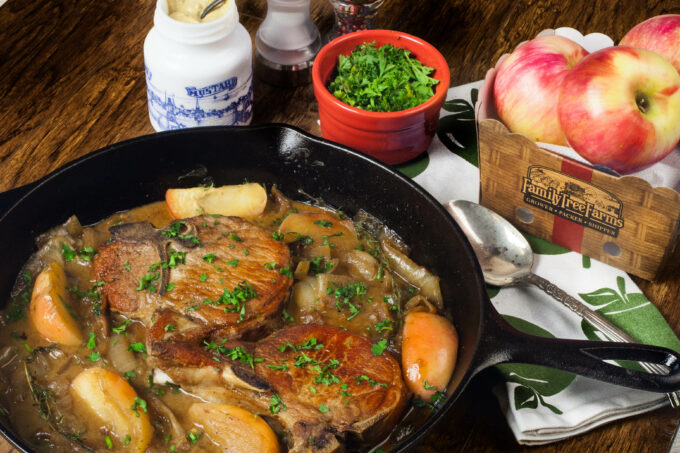 4 (12-ounce) center-cut pork chops, about 1 ¼ inch thick
2 ½ cups apple juice
2 tablespoons table salt
1 strip smoked bacon, chopped
2 large yellow onions, cut into rings
2 medium apples, cut into wedges
1 tablespoon minced garlic
1 tablespoon Dijon mustard
½ cup chopped flat-leaf parsley
4 sprigs fresh thyme
Kosher salt and freshly ground black pepper
2 tablespoons corn starch, if needed
2 tablespoon finely diced flat-leaf parsley
In a container with a lid, add 2 cups of apple juice, 2 tablespoons table salt, and 2 cups water. Submerge the pork chops in the brining liquid, cover, and refrigerate for 4 hours or overnight.
In a large cast-iron skillet over medium-high heat, add the chopped bacon and cook until the fat renders. Remove the bacon and save it for later.
Adjust the burner to high, and in the remaining grease, sear the fat sides of the pork chops until browned, about 5 minutes. Lower the heat to medium, turn the chops flat in the pan, and brown on both sides, about 5 minutes per side. Remove the pork chops.
Add the onions to the skillet and brown, about 5 minutes. Stir in the apple wedges, garlic, parsley, thyme sprigs, and the reserved bacon pieces. Season with a sprinkle of salt and a generous grind of pepper. Add the remaining ½ cup of apple juice and a ¼ cup of water along with the mustard. Stir to combine. Add the pork chops back to the skillet.
Lower the heat to a simmer and cook uncovered for 15 minutes. Turn the pork chops over and continue cooking until the meat registers an internal temperature of 165ºF, about 15 minutes. The gravy should be reduced and thickened at this point. If needed, adjust the gravy's thickness by making a slurry with the cornstarch and cold water. Bring the skillet to a simmer and add the slurry and stir to thicken.
Remove the thyme stems and discard. Garnish with a sprinkle of parsley; serve with mashed potatoes.
Cooking time does not include brining.
Recipe by
Acadiana Table
at https://www.acadianatable.com/2021/04/05/pork-chops-apple-onion-gravy/