Pork Sausage in Roux Gravy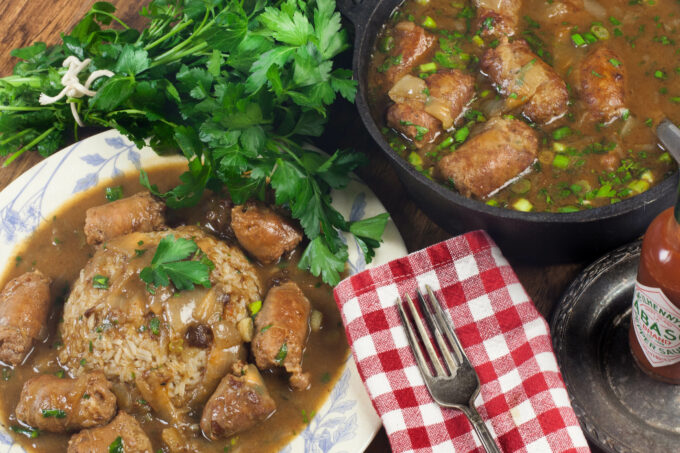 8 (6-inch) links fresh pork sausage, about 2 pounds
2 tablespoons vegetable oil
2 large yellow onions, thickly sliced into rings
1 teaspoon white pepper
1 teaspoon onion powder
1 teaspoon salt
1 teaspoon Acadiana Table Cajun Seasoning Blend, see recipe here
3 cups chicken stock
2 (heaping) tablespoons dark Cajun roux, such as Rox's Roux
¼ cup chopped flat-leaf parsley
¼ cup diced green onion tops
4 cups cooked long-grain white rice, such as Supreme, for serving
Hot sauce, for serving
Refrigerate the sausage links until chilled. Slice into 2-inch portions.
In a cast-iron pot with a tight-fitting lid over medium-high heat, add the oil.
Add the sausage links to the hot oil in batches and brown on all sides, about 15 minutes. Remove from the pot.
In the remaining oil, add the onion slices. Cook until wilted and beginning to brown, about 10 minutes.
Add the sausage back to the pot and season with white pepper, onion powder, salt, and Cajun seasoning.
Add the stock and roux; stir to combine.
Turn the heat to a simmer, cover, and cook until the sausage is cooked through and the gravy has thickened to coat the back of a spoon, about 1 hour.
Just before serving, add the parsley and green onion tops to the pot; stir to combine. Serve over rice with hot sauce on the side.
Fresh pork sausage is uncooked (do not use smoked sausage) and comes in various spice levels, so use your discretion. You can make your roux from scratch by following
the recipe here
.
Recipe by
Acadiana Table
at https://www.acadianatable.com/2021/09/13/pork-sausage-roux-gravy/