Cajun Meatballs and Peppers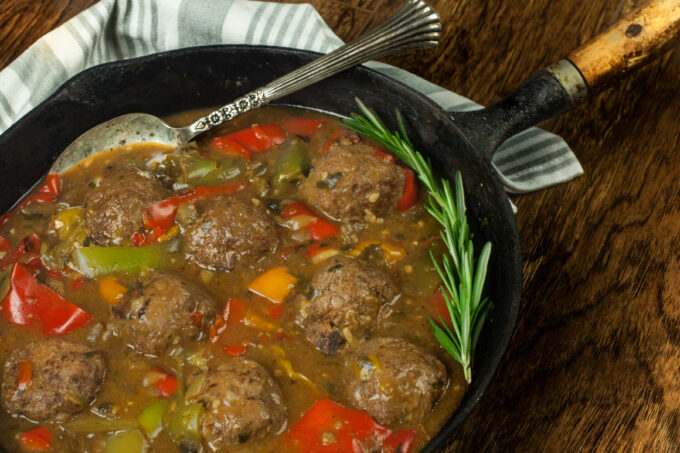 1 ½ pounds (80/20) ground chuck
1 ½ pounds ground pork
1 cup finely diced yellow onion
1 teaspoon garlic powder
1 teaspoon Acadiana Table Cajun Seasoning Blend, see recipe here
1 teaspoon white pepper
1 teaspoon freshly ground black pepper
1 teaspoon kosher salt
1 egg
2 cups plain Italian breadcrumbs
1 tablespoon vegetable oil
1 large yellow onion, roughly chopped
2 large green bell peppers, stemmed, seeded, and cut into strips
2 large red bell peppers, stemmed, seeded, and cut into strips
1 large yellow bell pepper, stemmed, seeded, and cut into strips
1 tablespoon minced garlic
2 tablespoons chopped fresh rosemary
2 tablespoons all-purpose flour
3 cups beef stock
1 tablespoon cornstarch (if needed)
Preheat your oven to 350ºF.
Add the meat to a mixing bowl along with the diced onion, garlic powder, Cajun seasoning, white pepper, black pepper, and salt. Mix and combine.
Add the egg and half of the breadcrumbs. Mix and add more breadcrumbs until the meat is firm enough to shape into golf-ball-size balls. Place on a parchment-lined baking sheet and bake until done, about 30 minutes.
In a large skillet with a tight-fitting lid over medium-high heat, add the oil. Add the onion, bell peppers, garlic, and rosemary; cook until the onions turn translucent, and the peppers begin to soften, about 8 minutes. Sprinkle the vegetables with flour and sauté to remove the raw taste of the flour, about 5 minutes.
Stir in the beef stock, lower the heat to a simmer, cover, and cook for 15 minutes.
Add the meatballs to the skillet and simmer for another 10 minutes.
The gravy should be thick enough to coat the back of a spoon; if not, thicken with a cornstarch slurry (equal parts cornstarch and cold water).
Serve over white rice or mashed potatoes.
In season, green bells are plentiful and cheap, but you'll pay more for red; I urge you to use both.
Recipe by
Acadiana Table
at https://www.acadianatable.com/2021/04/19/cajun-meatballs-peppers/