Beef and Broccoli with Jasmine Rice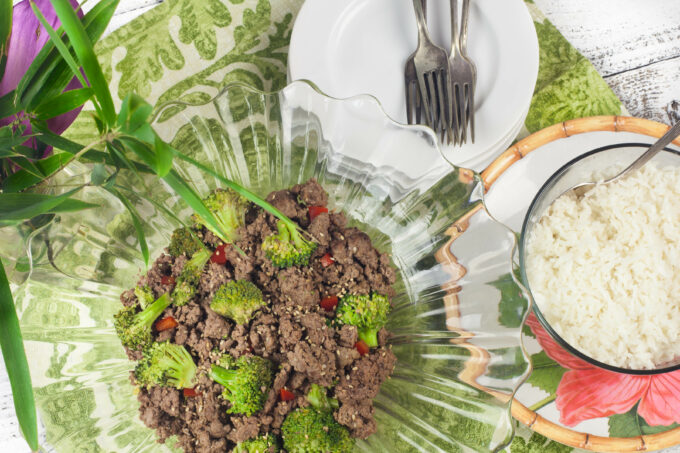 2 cups broccoli florets
1 tablespoon vegetable oil
1 ½ pound (80/20) ground beef
¼ cup diced yellow onion
¼ cup diced red bell pepper
3 tablespoons soy sauce
2 tablespoons Worcestershire sauce
1 teaspoon sesame oil
1 teaspoon sugarcane molasses or honey
1 tablespoon apple cider vinegar
1 teaspoon ground ginger
1 teaspoon white pepper
1 teaspoon garlic powder
1 teaspoon Acadiana Table Cajun Seasoning Blend, see recipe here
¼ cup beef stock
1 teaspoon sesame seeds
4 cups cooked jasmine rice, such as Supreme
In a pot of boiling water over high heat, add the broccoli. Lower the heat to a simmer and cook for 10 minutes until partially cooked. Remove and add to a bowl filled with ice water to stop the cooking and retain their color.
In a heavy skillet with a tight-fitting lid over medium-high heat, add the oil. Add the beef, onion, and bell pepper. Cook until the meat is cooked through, 10 to 12 minutes. Turn off the heat.
Add the soy sauce, Worcestershire, sesame oil, molasses, and vinegar. Season with ginger, white pepper, garlic powder, and Cajun seasoning. Add the beef stock. Stir to combine.
Drain and pat dry the pre-cooked broccoli florets, removing any moisture, and add to the skillet. Stir to combine, cover the skillet, and set the heat to medium; simmer until the broccoli is warmed through, 3 to 5 minutes.
Sprinkle with sesame seeds and serve over jasmine rice.
Cooking the broccoli ahead retains its bright color and prevents it from overcooking. I like how the Louisiana sugarcane molasses (Steen's brand) adds a smoky sweetness, but substitute honey if you must.
Recipe by
Acadiana Table
at https://www.acadianatable.com/2021/07/12/beef-broccoli-jasmine-rice/