Creole Fried Shrimp and Smoked Gouda Grits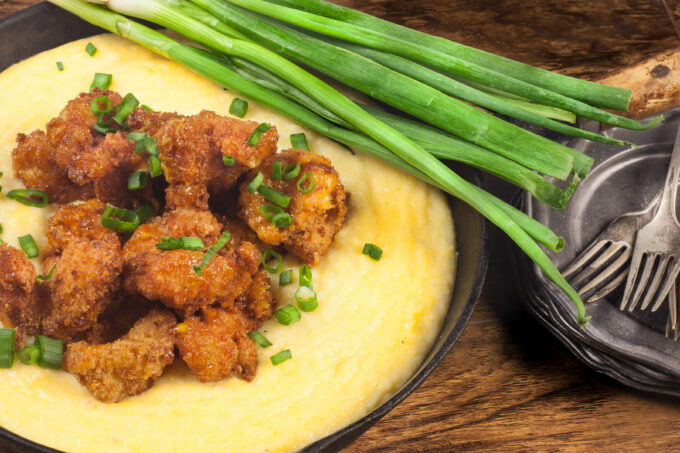 4 cups chicken stock
1 cup yellow stone-ground grits or polenta
4 tablespoons butter, divided
5 ounces shredded smoked Gouda cheese
¼ cup grated Parmigiano-Reggiano cheese
1 cup all-purpose flour
½ cup cornmeal
1 tablespoon garlic powder
1 tablespoon smoked paprika
2 cups buttermilk
2 eggs
1 tablespoon Acadiana Table Cajun Seasoning Blend, see recipe here
2 cups panko breadcrumbs
2 dozen extra-jumbo (16-20 count) Gulf shrimp, peeled, deveined, and butterflied
½ cup mayonnaise
4 tablespoons sriracha sauce
2 tablespoons ketchup
1 tablespoon lemon juice
1 teaspoon garlic powder
1 gallon vegetable oil
¼ cup diced green onion tops
In a pot with a tight-fitting lid over medium-high heat, add the chicken stock and bring to a boil. Add the grits and whisk vigorously. Continue stirring the pot, and watch as the grits thicken, about 8 minutes. Lower the heat to a simmer, cover the pot, and cook for 15 minutes, stirring occasionally.
Whisk in the butter and Gouda cheese and let melt.
Just before serving, sprinkle over the Parmigiano-Reggiano. Keep warm.
In a shallow bowl, add the flour, cornmeal, garlic powder, and blend.
In a shallow bowl, add the buttermilk, eggs, Cajun seasoning, and whisk until blended.
In a shallow bowl, add the breadcrumbs.
In batches, add the shrimp to the flour mixture and coat lightly. Then add the shrimp to the liquid mixture and coat. Then roll in breadcrumbs until coated. Shake off the excess coating and place on a tray. Repeat until all the shrimp are prepped. Refrigerate the shrimp to set the breading.
For the Creole sauce, whisk together the mayonnaise, sriracha, ketchup, lemon juice, and garlic powder in a bowl. Set aside.
In a deep fryer or large fry-pot, add the oil and bring to a temperature of 350ºF.
In batches, add the shrimp to the hot grease and fry until golden brown and crispy, about 5 minutes. Drain on a wire rack over paper towels.
For serving, add the shrimp to a large mixing bowl and spoon over some Creole sauce. Toss the shrimp in the sauce to coat. Add the shrimp on top of the grits and garnish with a sprinkle of green onion tops.
I prefer the coarse-ground yellow grits (or polenta) for this recipe, but if you opt for the traditional grits, follow the package directions. Your grits should be loose enough to pour from the pot, so add more chicken stock (or water) to thin them out, if necessary. Be sure to look for the smoked Gouda with bacon. Butterfly your shrimp for more surface area and crunch. Don't add salt to the grits; chicken stock and cheese have added salt.
Recipe by
Acadiana Table
at https://www.acadianatable.com/2021/04/26/creole-fried-shrimp-smoked-gouda-grits/