Apple Gateau with Calvados Crème Sauce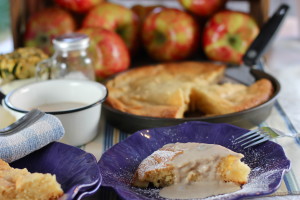 Recipe by:
George Graham - AcadianaTable.com
2 cups all-purpose flour, sifted
2 teaspoons baking powder
¾ cup sugar
1 cup heavy cream
2 large eggs
1 teaspoon grated lemon rind
⅓ cup vegetable oil
1 tablespoon unsalted butter
3 apples, such as Honeycrisp, cored, peeled and thinly sliced
1 cup apple cider
¼ cup sugar
¼ cup butter
½ cup Calvados apple brandy
¼ cup heavy cream
Preheat the oven to 350ºF.
In a large mixing bow, add the flour and baking powder along with the sugar and combine. Whisk the cream, eggs, lemon rind, and oil together in a bowl. Add the wet to the dry ingredients and stir to combine. In a sauté pan over medium heat, add the butter. Once melted, add the apple slices, and cook until just beginning to soften. Fold the apples into the combined ingredients. Spread the batter into a greased 9-inch cake pan and bake for approximately 1 hour or until a toothpick comes out clean.
In a saucepan over low heat, add the apple cider and sugar. Stir until it turns syrupy. Whisk in the butter and when thoroughly blended, remove from heat. Add the Calvados and cream. Stir until combined and thickened.
Slice the gateau and top with a drizzle of the sauce. Serve warm or room temperature along with a cup of hot Louisiana coffee.
I like the simplicity of apples as interpreted in this down-home gateau, but feel free to riff on this basic recipe by using pears instead of apples, a streusel topping or nuts – pecans or walnuts would be nice. Have fun with it and change it to suit your mood and the availability of fresh ingredients. I replace the sugar with stevia when possible, but use your discretion.
Recipe by
Acadiana Table
at https://www.acadianatable.com/2019/06/24/apple-gateau-with-calvados-creme-sauce/