Heirloom Tomato and Sweet Red Pepper Soup with Grilled Cheese Croutons and Goat Cheese Drizzle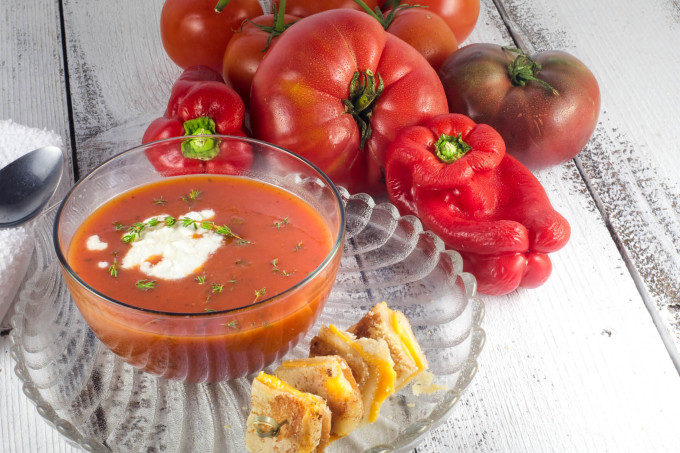 Recipe by:
George Graham - AcadianaTable.com
8 large ripe tomatoes, preferably heirloom variety
4 red bell peppers
1 cup (2 sticks) unsalted butter, softened
1 cup diced yellow onion
1 cup diced celery
2 tablespoons minced garlic
4 tablespoons tomato paste
2 tablespoons chopped fresh thyme
1 tablespoon smoked paprika
1 cup chicken stock
1 cup whole milk
½ cup heavy cream
Kosher salt and freshly ground black pepper to taste
8 slices white sandwich bread
4 tablespoons finely grated Parmesan cheese
4 slices American cheese
4 slices Swiss cheese
4 tablespoons soft goat cheese
4 sprigs fresh thyme, for garnish
Cut a small X in the top stem portion of each tomato. In a large pot of boiling water, add the tomatoes and parboil for 1 minute. Remove and let cool. With a small sharp knife, peel back the skin at the X and discard. Repeat with all tomatoes. Cut each tomato in half.
Over the open flame of your gas stovetop or on an outdoor grill, place the bell peppers. With a long pair of tongs, rotate the peppers until the skin is blackened. Place each pepper into a paper sack or covered bowl and seal. Once the steam dissipates, remove the pepper; peel away and discard the skin. Cut each pepper in half lengthwise and remove any seeds or membrane.
Preheat the oven to 375ºF. On a large rimmed baking sheet, add the tomatoes and the peppers. Roast for about 30 minutes until they begin to fall apart, but remove them before they blacken. Let cool.
In a large skillet over medium-high heat, melt 1 stick of the butter and add the onions and celery. Cook until translucent and then add the garlic, tomato paste, thyme, and paprika. Lower the heat to low and continue to stir until all is combined and cooked through, about 5 minutes. Add the roasted tomatoes and peppers and cook for 5 minutes, constantly stirring.
Add the chicken stock along with the milk and bring to a boil. Immediately lower the heat to a simmer and continue cooking for 30 minutes until all the vegetables are tender and the mixture has thickened some.
With an immersion blender or a food processor, process the mixture until it takes on a thick bisque-like texture. Add the heavy cream and blend some more. Taste the soup and season with sea salt and freshly ground black pepper. Continue to simmer the soup until ready to serve. If it thickens too much, thin it out with a little more cream or stock.
Meanwhile, make the grilled cheese croutons by trimming the crust off the sliced bread. Brush the top and bottom slice with the remaining 1 stick of softened butter and sprinkle lightly with Parmesan cheese. Layer a slice of American cheese and Swiss cheese between the slices and place in a hot skillet. Cook until browned and flip over and cook the other side until the cheese has melted. Remove and keep warm. Repeat until all sandwiches are grilled. Slice each sandwich into 4 small squares and insert a bamboo skewer.
In a hot skillet add the goat cheese and melt until it attains a liquid consistency. Keep warm until serving.
For serving, ladle the soup into bowls along with a grilled cheese crouton skewer. With a spoon, drizzle some of the melted goat cheese into the soup and garnish with a sprig of fresh thyme.
South Louisiana farms grow the tastiest vine-ripened tomatoes and I take advantage of the season and stock up. Roasting a batch of ripe tomatoes and then canning them for year-round enjoyment is a smart way to make this dish during any season. If you do not have local heirloom tomatoes available then use any good red tomato, even Romas, just make sure they are at the peak of ripeness.
Recipe by
Acadiana Table
at https://www.acadianatable.com/2016/01/11/tomato-soup/