Beer-Braised Stuffed Brisket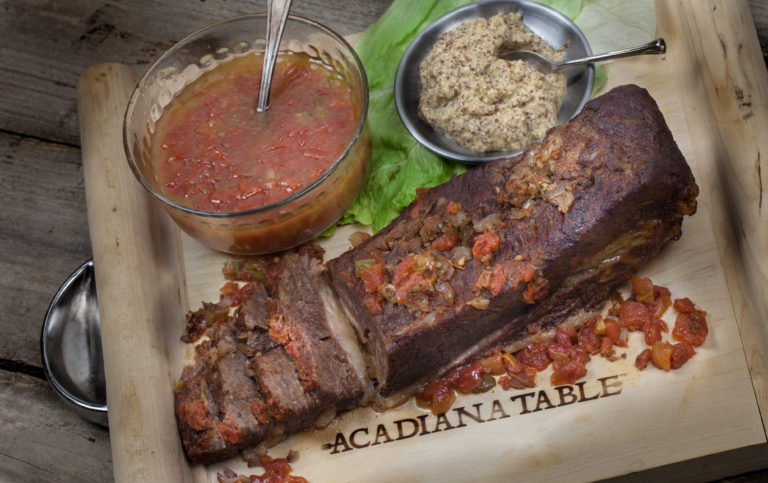 Recipe by:
George Graham - AcadianaTable.com
1 (3.5-pound) trimmed beef brisket
3 tablespoons Acadiana Table Cajun Seasoning Blend, see recipe here
1 cup diced yellow onion
½ cup diced celery
½ cup diced green bell pepper
½ cup diced green onion tops
1 tablespoon minced garlic
2 tablespoons chopped flat-leaf parsley
2 (12-ounce) bottles beer
2 (10-ounce) cans mild diced tomatoes and green chiles, such as Rotel
4 tablespoons cornstarch
Preheat the oven to 300ºF.
Place the brisket on a cutting board and remove any remaining excess fat. Using a sharp boning knife, slice down the middle of the brisket and cut into the flaps to make a pocket. Lightly sprinkle the interior of the meat with Cajun seasoning.
In a mixing bowl, place all the diced vegetables and combine. Using your hands, stuff the vegetable mixture inside the meat, pressing firmly into the crevices. Pull the flaps of the meat together to close as much as you can. Sprinkle generously with Cajun seasoning.
Place the meat on a parchment or foil-lined roaster, and add the beer along the sides of the meat. Add the diced tomatoes and green chiles along with their canning liquid.
Cover the roaster tightly, place in the preheated oven, and cook for 3 hours.
When the brisket is done, it should be fork-tender. Strain the liquid into a separate pot and let the brisket rest covered for at least 20 minutes.
In the separate pot, skim the fat from the juices. Heat the juices to a simmer while making a slurry of 4 tablespoons of cornstarch and cold water. Add small amounts of the slurry to the simmering juices until the desired gravy consistency is achieved.
Carve the brisket into large slices being sure to cut across the grain. Spoon some of the beer gravy over the meat. Present the dish family-style on a large platter with mashed potatoes, grainy Creole mustard, and a crusty loaf of French bread. Serve with mugs of ice-cold beer.
My brisket is pre-trimmed and compact for a small group, feel free to buy a larger brisket and trim it yourself. You will need to scale up the amount of ingredients to accommodate the size of your meat. The meat will shrink during the long cooking. Notice there is no added salt or pepper, and the Rotel is mild; let the Cajun seasoning do the spice work in this recipe. One idea I might try next time is adding small, new potatoes to the braising liquid to soak up the beer and meat juices. This brisket has a spectacular flavor profile and is versatile enough to be served hot, room temperature or even cold on a sandwich days later.
Recipe by
Acadiana Table
at https://www.acadianatable.com/2018/01/01/beer-braised-stuffed-brisket/