Rum-Soaked Coconut Bread Pudding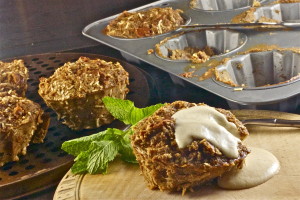 Recipe by:
George Graham - AcadianaTable.com
8 hamburger buns
6 large eggs
2 tablespoons vanilla
1 cup pina colada mix
1 cup coconut milk
¼ cup dark rum
½ cup sugarcane molasses
½ cup Greek yogurt
1 tablespoon cinnamon
1 teaspoon ground ginger
1 teaspoon ground allspice
1 teaspoon ground nutmeg
1 teaspoon ground cloves
½ cup sugar
1 cup shredded coconut
Spray butter
1 cup coconut milk, plus more if needed
3 tablespoons dark rum
½ cup sugar
1 tablespoon cornstarch
2 tablespoons unsalted butter
Preheat the oven to 375ºF.
In a mixing bowl, break up the buns into small chunks. Move to the side.
In the container of a blender, crack all of the eggs straight into the blender and add the vanilla, pina colada mix, coconut milk, rum, molasses, and yogurt. Add the dry ingredients; cinnamon, ginger, allspice, nutmeg, cloves, and sugar. Blend on high until combined.
Pour the mixture over the bread chunks and use a spoon or your clean hands to mash the mixture together. Make sure that all pieces are soaked.
Coat the inside compartments of a muffin pan (large size) with spray butter. Pour the mixture into each of the muffin cups. Fill them to the top and wipe the excess away from the edges.
Place the pan in the oven and cook for 25 minutes until the puddings are set. Remove from the oven and keep warm.
In a saucepan over medium heat, add the coconut milk and bring to a simmer. Add the rum, sugar, cornstarch, and butter and whisk until it is combined. With a wire whisk, begin stirring while increasing the heat to high and the sauce thickens. Once it comes to a boil, turn off the heat and continue to whisk until it comes to the desired thickness. If it is too thick, add a bit more coconut milk. Remove from the stove and keep warm.
For serving, plate the bread pudding and with a sharp knife cut an X in the center of each. Spoon the hot sauce into the middle and let it run out onto the plate. Garnish with a sprig of mint and serve while hot.
Be sure to buy quality hamburger buns with a soft inside, and (of course) don't use sesame seed buns. I use the Coco Lopez brand pina colada mix in the can, but I would think most any brand works. As for the coconut milk, be sure to get the unsweetened milk, not the ultra-sweet coconut cream.
Recipe by
Acadiana Table
at https://www.acadianatable.com/2013/07/29/coconut-bread-pudding/