Crazy-Crisp Cajun Onion Rings with Spicy Mustard Aioli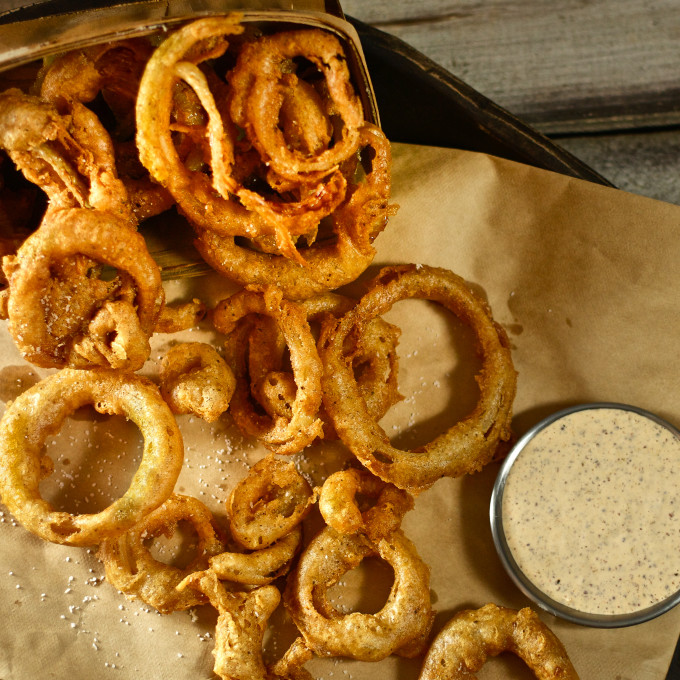 Recipe by:
George Graham - AcadianaTable.com
4 yellow onions, peeled and sliced into medium thick rounds
1 cup cold beer
1 cup buttermilk
¼ cup sugarcane vinegar
2 tablespoons Acadiana Table Cajun Seasoning Blend, see recipe here
Kosher salt
Freshly ground black pepper
1 cup mayonnaise
½ cup Creole mustard or coarse-grained mustard
1 tablespoon lemon juice
1 tablespoon Acadiana Table Cajun Seasoning Blend, see recipe here
Kosher salt
1 gallon hog lard
1 cup rice flour
1 cup Wondra flour
1 cup self-rising flour
¼ cup Acadiana Table Cajun Seasoning Blend, see recipe here
Kosher salt
In a large zip lock bag, add all the onions. Pour in the beer, buttermilk, and vinegar. Season with Cajun seasoning along with salt and pepper. Seal the bag and refrigerate for up to 2 hours.
In a mixing bowl, add all ingredients and stir. Cover and refrigerate.
Preheat the oven to 200ºF.
In a large wide pot on medium heat, add the lard and bring to 375ºF.
In a large mixing bowl, add the flours along with the Cajun seasoning. Remove the bag of marinade from the refrigerator and pour off the liquid into the mixing bowl. Stir the dry and wet ingredients together until it forms a smooth batter. Add a bit of water if it is too thick.
Place the onions rings into the batter and coat. Several at a time remove the rings and shake excess batter from them and slowly add them individually to the hot lard. They will float to the surface and begin crisping immediately. Repeat in batches until you have filled the pot without crowding the rings. When the rings brown on one side, turn them over and let cook until golden brown. After each batch, sprinkle with salt and move the fried onion rings to a rack-lined metal sheet pan placed into the oven for keeping warm. Once all of the onion rings are finished cooking, place the tray on the table and serve with the spicy dipping sauce.
Use a full-bodied beer like an IPA. Don't crowd the pan when frying, It is best to use as wide a pot or pan as you can so that the onions can spread out and crisp without sticking to each other. I render my own lard, but any good butcher worth his salt pork should be able to rig you up.
Recipe by
Acadiana Table
at https://www.acadianatable.com/2020/08/31/cajun-onion-rings/