Iceberg Wedge Salad with Buttermilk Blue and Spiced Pecans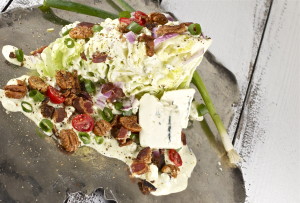 Recipe by:
George Graham - AcadianaTable.com
1 cup Greek yogurt
1 cup mayonnaise
½ cup buttermilk
1 tablespoon lemon juice
1 tablespoon sugarcane vinegar
1 tablespoon Worcestershire sauce
1 cup extra virgin olive oil
Kosher salt and freshly ground black pepper
2 cups blue cheese, crumbled
2 cups pecan halves
1 stick butter
2 tablespoons Acadiana Table Cajun Seasoning Blend, see recipe here
Kosher salt
1 extra large head iceberg lettuce, cleaned
8 strips smoked bacon
2 tablespoons Acadiana Table Cajun Seasoning Blend, see recipe here
1 large red onion, finely diced
2 cups ripe red cherry tomato, halved
4 thick slices blue cheese
1 cup diced green onion tops
Freshly ground black pepper
4 stalks of green onion
In a large mixing bowl, add the yogurt and whisk in the mayonnaise and buttermilk. Continue whisking while adding the lemon juice, vinegar, and Worcestershire. Whisk the mixture while drizzling the olive oil and combine. Season lightly with salt and pepper. With a rubber spatula, gently fold in the crumbled cheese and combine. Cover with plastic wrap, and store in the coldest part of the refrigerator for 2 hours or overnight.
Preheat the oven to 300ºF.
In a large skillet over medium heat, add the pecan halves. Rotate the pecans as they begin to toast. Be careful and remove them before they burn. In the same skillet, add the butter and let melt. Add the Cajun seasoning and stir to incorporate. Return the pecans to the seasoned butter and mix until all the nuts are coated. Remove the pecans to a baking pan and lightly sprinkle with salt. Place the baking pan into the hot oven and let bake for 10 minutes. Remove the pan and let the pecans come to room temperature before serving.
Select 4 large dinner plates and place them in the freezer for 1 hour before serving.
Cut the lettuce into 4 equal-sized quarters. Position them on a platter and place in the coldest part of the refrigerator for at least 1 hour before serving.
In a large skillet over medium heat, add the bacon strips and cook until fried crispy. Sprinkle liberally with Cajun seasoning. Remove to a paper towel-lined platter to drain. Crumble the bacon into coarse pieces and reserve in a bowl until serving.
For serving, remove the plates from the freezer and position a lettuce wedge on each. Spoon a generous amount of dressing over one side of the wedge and let the dressing pool at the bottom of the plate. Sprinkle over the diced onion and an even distribution of tomato halves. Stand a thick slice of Roquefort in the dressing leaning against the wedge. Sprinkle the green onion tops and grind a generous amount of coarse black pepper over the salad. Garnish with a stalk of green onion. Serve the salad immediately.
This salad is designed to be an entrée portion, but could just as well accompany a well-marbled steak. Spring for the best blue cheese (I use Point Reyes) you can afford. I like these spiked pecans, but plain salted pecans would be fine. Timing is everything with this recipe. Several steps can be done ahead, but be sure to have your guests seated before final assembly of this ice-cold salad.
Recipe by
Acadiana Table
at https://www.acadianatable.com/2020/08/24/iceberg-wedge-blue-cheese/