Hopper Poppers: Bacon-Wrapped Rabbit Poppers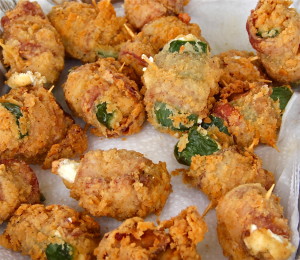 Recipe by:
George Graham - AcadianaTable.com
3 whole rabbits, cleaned
Kosher salt and freshly ground black pepper
6 tablespoons Cajun seasoning, divided
1 (10-ounce) bottle of beer
1 cup buttermilk
2 tablespoons hot sauce
2 pounds thin-sliced applewood smoked bacon
2 dozen raw jalapeno peppers
1 pound Brie cheese, rind removed
4 large eggs
2 cups buttermilk
4 cups all-purpose flour
1 gallon canola oil
Wash the rabbits and dry with paper towels. Cut the whole rabbits into quarters and sprinkle liberally with salt, pepper, and 2 tablespoons of Cajun seasoning. Place in a shallow pan and pour in the beer and buttermilk along with the hot sauce. Mix well, cover and place in the refrigerator for 2 to 4 hours.
Spread the bacon strips out on a platter and stretch them out. Cut them in half to two shorter lengths. Move aside for later use.
On a cutting board, slice open the jalapeno peppers in half lengthwise to expose the cavity. With a teaspoon, remove the ribs and seeds. Place on a platter and reserve for later.
On a cutting board using a sharp paring knife, cut the Brie cheese into ½ inch slices or just enough to fill the inside of the jalapenos. Place on a platter for later use.
Remove the rabbit from the pan and drain. Place on paper towels and dry thoroughly. On a cutting board and using a sharp knife, cut off 1-inch filets of rabbit meat from the bone. Continue until you have approximately 48 slices of meat. Dry the meat thoroughly. Place the meat on a platter and reserve any remaining rabbit for another use.
For assembly, fill the cavity of a sliced jalapeno half with a portion of cheese and place a slice of rabbit meat on top. Wrap with just enough bacon to wind around the jalapeno once and insert a toothpick to hold the ends of the bacon together. Continue until all of the poppers are prepped. Cover and keep at room temperature.
For the wet batter, crack the eggs into a large bowl. Add the buttermilk along with 2 tablespoons of Cajun seasoning and 1 tablespoons of hot sauce.
For the dry batter, add the flour along with the remaining 2 tablespoons of Cajun seasoning.
In a large pot, add enough oil to cover the poppers when frying, approximately 4 inches. Turn the burner to medium-high and heat the oil to 350ºF.
For frying, add the poppers to the egg mixture and coat. Several at a time, move them to the dry mix and coat. Shake off any excess flour. Add them one at a time to the hot oil being careful not to crowd the pot and to maintain 350ºF temperature. As they begin to turn golden brown on all sides, remove them to a rack-lined pan. Continue until all the poppers are finished and serve immediately while they are hot. Some like a dipping sauce with this, but I prefer letting the complex flavors of the ingredients shine.
A couple of cleaned rabbits will yield enough meat to make about four dozen of these poppers. I use both the green and red jalapenos for presentation sake as the flavor and spice level are identical. Use a regular-sliced applewood smoked bacon as I find the thick-cut to be, well, too thick. This is not as much about the bacon as it is what's inside. Frying temperature is crucial with this recipe in order to cook the interior rabbit and bacon without overcooking the exterior crust. I recommend using a thermometer to maintain the heat level to 350ºF.
Recipe by
Acadiana Table
at https://www.acadianatable.com/2020/08/11/bacon-wrapped-rabbit-poppers/