Shrimp and Artichoke Fettuccine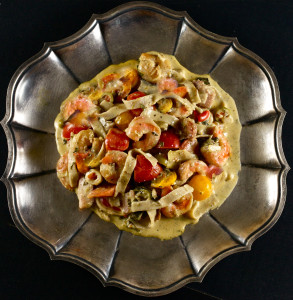 Recipe by:
George Graham - AcadianaTable.com
Water
½ cup table salt
1 pound package dried fettuccine noodles
4 tablespoons olive oil
1 cup diced yellow onions
½ cup diced celery
½ cup diced carrots
1 cup sliced baby portobello mushrooms
2 tablespoons chopped fresh rosemary
1 cup chopped tasso or smoked ham
½ cup dry white wine
2 cups heavy whipping cream
1 (14-ounce) can quartered artichoke hearts, packed in water
½ cup red cherry tomatoes, halved
½ cup yellow cherry tomatoes, halved
2 tablespoons sliced olives
2 pounds medium-sized fresh Gulf shrimp, peeled
Kosher salt and freshly ground black pepper
Dash of hot sauce
½ cup chopped fresh basil
2 tablespoons grated Parmigiano-Reggiano cheese
In a large pot over high heat filled half way with water, bring to a boil. Add the salt and the pasta. Cook just until the pasta reaches al dente. Immediately drain the pasta into a colander and rinse with cold water. Reserve for later use.
In a large skillet over medium heat, add the olive oil. Add the onions, celery, and carrots and cook until the onions turn translucent, about 5 minutes. Add the mushrooms, rosemary, and tasso. Continue cooking for 5 minutes and add the white wine. Cook until the wine reduces by half, about 5 minutes. Add the cream and bring to a boil. Decrease the heat to a simmer and add the artichokes, tomatoes, and olives. Continue cooking until the cream reduces and begins to thicken, about 10 minutes.
Add the shrimp and cook for 5 minutes. Add the par-cooked pasta to the pan and stir to incorporate it into the hot cream mixture. Season to taste with salt, pepper, and a dash of hot sauce. Just before serving, add the chopped basil and cheese and stir.
For serving, spoon the pasta into shallow bowls making sure to evenly distribute the shrimp. Serve with crusty French bread.
I use whole wheat fettuccine, but any type will work. If you cannot find tasso, use diced smoked ham. Try this recipe with oysters or crabmeat for a change.
Recipe by
Acadiana Table
at https://www.acadianatable.com/?p=8068