Celebrating the local restaurant scene in Lafayette has been an annual affair ever since the local tourist bureau created the summer-long Eat Lafayette ad campaign.  A project of the Lafayette Convention and Visitors Commission and tourism head Ben Berthelot, it is a way to highlight the homegrown eateries that showcase local fare and to urge diners to support them.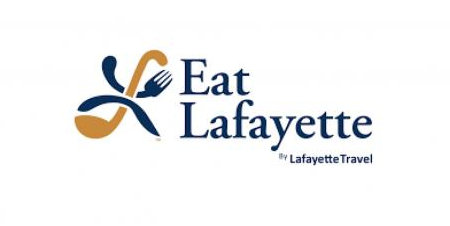 You see, as the national chain restaurants descend on a community with their high-concept brands and focus group-tested menus, they eventually edge out locally owned and long-treasured eateries.  You know the ones I'm talking about: In every town in America, there are local restaurants that over time take on an iconic status and a passionate love affair with the locals who dine there.  With generational devotion, these are dining establishments that create lasting memories and culinary benchmarks that are hard to top.
Lafayette, Louisiana is no exception.  There is a long list of eateries that defy logic in their timeless survival of new competition, economic downturn, changing tastes, and all other maladies that challenge the restaurant industry.  These are locally-owned restaurants with signature dishes that have a fanatical following.  These are the time-honored best of the best.  The ones that represent who I am and where I live.  Ok, so I am passionate and, as I assume, so are you.
With Eat Lafayette in full swing, I'm reminding everyone to support these restaurants and so many more that you have treasured memories of.  This list is mine, and no doubt, you will have yours.  Presenting my Top 12 Legendary Restaurants of Lafayette that stir the passions of locals (in no particular order of passion-stirring significance):
#12 – Dwyer's Café
The name Dwyer has been a part of Lafayette food lore since 1965 when Stanley Dwyer put his name on the café. And when son Michael moved it to its current location in 1979, Dwyer's has become a legendary downtown diner. Breakfast or lunch–plate lunch that is–are down-home hearty and the definition of comfort food. So comfortable, you'll be wanting a nap. Mounds of white rice with gravy and the meat of the day – pork roast, round steak, beef tongue, and stewed chicken rotates through the week. Lots of choices for sides and a friendly café feel have kept the downtown crowd coming back year after year. I'd tell you to check out their website if they had one. Gotta love Dwyer's.
______________________
#11 – Poor Boy's Riverside
Poor Boy's Riverside: What's with the name?  They are not located on the side of a river, and they don't serve poor boys.  But, this restaurant is truly one of Acadiana's hidden jewels, and this place no doubt represents the purity and sanctity of all things Cajun and Creole.  Since 1932, the Landry and later the Hurst families have been cookin' up the classics.  If the Shrimp En Brochette and deep-fried Alligator Tidbits don't get your juices flowing, then just wait for the platter-size Crawfish Dinner, or the Whole Flounder grilled to perfection.  And one of my favorites is the  Lump Crabmeat Sautéed in Butter featuring jumbo lumps of Gulf blue crab; it is a revelation in its simplicity of showcasing the beauty of Louisiana seafood.  This kitchen works on every level and features a full menu of classic dishes worth searching for this off-the-eatin'-path treasure.
______________________
#10 – Café Vermilionville
Not once, but twice, legendary restaurateur Ken "Poncho" Veron turned this pre-Civil War house into a success story on the Lafayette food scene.  First as Judge Roy Bean's—a 1970s watering hole—and then again as Café Vermilionville, a white-tablecloth wonder.  Weddings are celebrated and anniversaries become treasured memories in this romantic, candlelit venue.  The menu boasts a variety of favorites with ever-changing specials.  The next generation of Verons–Ken, Jr. and his wife Andrea–have taken over this beloved venue and are keeping this culinary treasure polished and gleaming for decades to come.
______________________
#9 – Hub City Diner

Opened over 25 years ago, this rock 'n roll restaurant is still going strong.  Southern Living magazine recognized it as one of the best examples of the retro fifties diners in America.  Wanna go back in time? Just put a quarter in the jukebox and sit at the counter for a Chocolate Malt, a cheeseburger, and an order of Atomic Q's.
______________________
#8 – Don's Downtown
Since 1934, this downtown Lafayette classic eatery is the old-school forerunner of Acadiana's world-class Cajun and Creole restaurants.  And I am as guilty as anyone for taking it for granted.  It should be a shrine to our heritage–a mecca for praising the many dishes it has elevated to the pinnacle of Acadiana's table.  For many older Lafayette folks, the standout menu represents the best renditions of Cajun classics that newer restaurants try to copy.  It's hard to decide between the Fried Crab Fingers appetizer, the Half and Half (fried crawfish and shrimp), and the famous Ashby Special with a little bit of everything.  But for me, it is their dark, rich Crawfish Bisque with stuffed heads that shines brightest, and it is indeed a legendary dish.
______________________
#7 – Randol's
Frank Randol's Cajun restaurant and dancehall smack dab in the middle of Lafayette is as much a part of the fabric of our culinary culture as any place I know.  It's the place you bring out-of-towners for a taste of our joie de vivre as well as the gumbo, étouffée, boiled crawfish, and one of the tastiest crab cakes you'll find anywhere..  Live music, a huge dance floor, and fresh Louisiana seafood are why Randol's keeps the tourists and generations of Lafayette locals coming back.  Within a stone's throw of Randol's front door is just about every national restaurant chain imaginable, but they can never duplicate the foot-stompin', down-home fun of this place.  As the sign says, "Laissez les bons temps rouler," and Randol's continues to two-step from generation to generation of Lafayette diners.
______________________
#6 – Alesi Pizza House 
The neon sign gleaming along Johnston Street has become as much an icon of our dining scene as the retro Italian eatery itself.  This throwback to a time when simple Italian food—pizzas, lasagna, and meatballs and spaghetti—was all about comfort, still packs in a new generation of Lafayette diners.  Mike Alesi opened his pizza house in 1957 when Cajun country knew nothing about pizza.  Now, the pizzas still fly in the exhibition "dough room", and orders fly out of the busy kitchen.  Although you can get any pizza chain to deliver to your door these days, it's reassuring to know that the Alesi neon sign still flickers in the night as a welcome sign beckoning the next generation.
______________________
#5 – Charley G's
Charley G's still seems as fresh and new as it was when it debuted over 30 years ago.  Many upstarts have come and gone since then, but this now legendary eatery has endured.  My friend Charlie Goodson is noteworthy for more than one accolade in my Acadiana Table Hall of Fame.  In his long career, he has redefined the local restaurant scene.  He's the first to introduce an open kitchen, and in a town that is known for frying, Charlie made grilled seafood his menu centerpiece.  Starting with the Duck and Andouille Gumbo, the menu is chock full of classics, but the Crab Cakes have always been the top seller.  With their light and airy béchamel center, these crab cakes have a unique flavor and texture that is hard to define.  The lively bar scene makes this restaurant a celebration for a special occasion or just any night of the week.
______________________
#4 – Borden's Ice Cream Shoppe

You just expect to look around and see Archie and Veronica hanging out in this joint.  More than just ice cream, sitting at the counter of this art deco, neon-lit, time machine of a sweet shoppe is a link to a time we all want to retreat to.  The Lerille family has invested their heart and soul into preserving this icon for future generations, and it is up to you to make sure it stays as it is – sweet, simple, and pure.  Take a seat and order up a Waffle Cone or a fizzy, soda-infused Sherbet Freeze, and it comes with a side order of nostalgia.  I love the Gold Brick Sundae–the hot fudge version of the Elmer's Candy classic I grew up eating.  Vanilla topped with warm chocolate and garnished with chopped walnuts, a dollop of whipped cream, and a cherry on top.  Sweet memories!
______________________
#3 – Dean-O's
This one is hard to define.  Of all the pizza places in all the world, why Dean-O's?  I dunno.  But, it has undoubtedly the most passionate and unwavering loyal following of any restaurant in Lafayette.  This pizzeria has lots of items on the menu, and they're all good.  But it's the pizzas that keep bringing 'em back: the fiery hot Cajun Executioner, the Tee Rex Ultimate Meat Eater, and the Rajun Cajun are just a few of the signature pies.  But for me, it's the crab-infused Marie Laveau pizza–mozzarella, blue crab, mushrooms, caramelized onions, and garlic–that ignites the voodoo magic in us all and sends me into a flavor-filled trance.  It is addictive!
______________________
#2 – La Fonda
It's been said that more deals in Lafayette's oil patch have been sealed on a Friday afternoon at the bar of this little cantina than any place else in South Louisiana.  La Fonda is a legendary venue that has stood the test of time –management changes, economic downturns, competitive onslaught–and still, it perseveres.  Started by master restaurateur Leebob Cox, this eatery has been packing them in since 1957.  Certainly, the potent margaritas, the Chicken Tapatia, and the fried rabbit appetizer all appear on our tabs, but it is the jalapeno-infused beef nachos that are a must-have starter for every visit to this Tex-Mex shrine to the glory days of Acadiana's oil patch.  Don't even think about bringing your friends from Houston; just save it for yourself!
______________________
#1 – Judice Inn
The world's greatest hamburger?  That's debatable.  A rite of passage since 1947 for every home-grown Lafayette kid who is big enough to belly-up to a booth for a Saturday lunch?  Yes.  This is a spiritual burger.  I just call it The Hamburger.  I always order the Double Cheeseburger–double-stacked beef and American cheese with raw onion on the side.  Cooked on a flat-top griddle, served on a store-bought bun, and wrapped in wax paper, it is an indescribably simple combination that I find hard to write about.  This is the burger I would expect to have while standing in line outside the Pearly Gates.  And I probably won't get fries there either.
______________________
I know, I know.  This list is incomplete, and you undoubtedly have a host of additions.  Before you take me to task, please join the online discussion and let the entire Acadiana Table hear you out.  Rant, rave, and revel in the iconic favorites that stir your passion.  We just might have to expand this list next year to include some of your favorites.  And be sure to dine at your favorites this summer during the Eat Lafayette celebration.
YOUR SEAT AT THE TABLE:  If you like this story and recipe then accept my personal invitation to subscribe by entering your email at the bottom or top right of this page.  It's quick and painless.  You will receive an email alert and be the first to see when new stories and recipes are added.  Thanks, George.