2021 is here, and I'm starting it off by making a culinary New Year's resolution. Here in Louisiana, we love to eat, and for the coming year, I resolve to eat local and buy local whenever possible.  And to ensure Cajun authenticity, I am revisiting my "Signs You Are Eating Real Cajun Food."
You see, in every culinary culture, there are certain misconceptions and downright mistakes that, if allowed to perpetuate, will work to erode the authenticity and traditional foundation of the cuisine.  Our precious Cajun culinary heritage – the most treasured of American cuisines – has been under siege since the blackened craze of the 1980s.  Just go to any American city, and you'll find a Cajunized dish chock-a-block full of cayenne or a watered-down, soupy mess of a so-called gumbo.
Stop the madness.
To help define our cuisine's authenticity, the folks at the Louisiana Department of Agriculture created the Certified Louisiana program. This designation assures consumers that the products they are buying have been screened and are truly Louisiana-based food companies. I urge you to look for food products bearing the Certified Louisiana or Certified Cajun logo in supermarkets everywhere.
But that's only the start. Here at Acadiana Table, I am launching a grassroots consumer movement that will establish official policies and procedures for what is, and what isn't real Cajun food.  I know.  I know.  This is sure to meet with some resistance, and controversy is inevitable, but the dialog must begin.  The objective will be to develop guidelines and the tell-tale signs that our culinary heritage is under attack.  But, I need your input.  I will start the discussion, but I want to know what you think and whether you agree or disagree.  Here's my list of things to look for, so please comment and add yours to the list.
#1 More flavor, less heat.
Real Cajun food is not overly spiced.  It lures you in with a depth of flavor and well-balanced spices that are unmistakable.  Heavy-handed cayenne is how chefs outside of Louisiana interpret Cajun.
Why do you think the bottle of hot sauce is on the table?
#2 No tomatoes in the gumbo.
That's right.  You might find tomato in a citified New Orleans Creole gumbo, but not a true Cajun gumbo.  Deep dark roux and quality ingredients for sure, but no tomatoes.
#3 Andouille, tasso, and chaurice, but never bratwurst.
Cajuns have a sausage language that is unmistakable and unmistakably delicious.  Anything ending in "wurst" is the worst mistake you can make.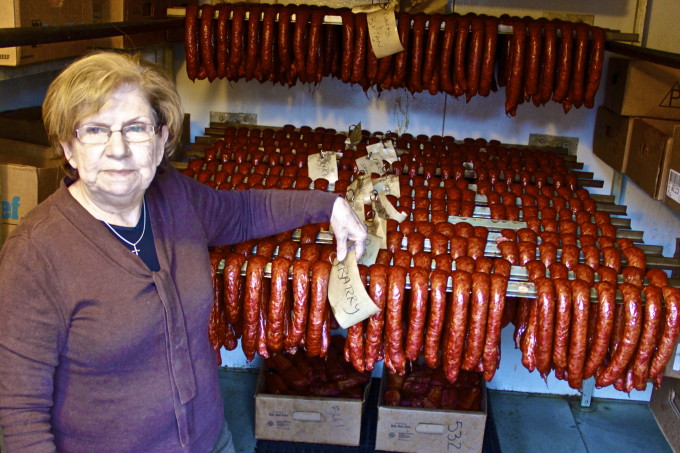 #4 Crawfish, not crayfish.
This is the dead giveaway.  If you see "crayfish" on the menu, run as fast as you can.
#5 It's toe-tappin', two-steppin', foot-stompin' food.
Like no other, Cajun food comes with a chank-a-chank soundtrack that makes the food taste even better.
#6 No soup in my étouffée.
There is a trendy little recipe going around that adds mushroom soup to the classic crawfish étouffée.  This must be stopped at all costs.  Notify the authorities at once.
#7 No crawfish on ice.
A steaming, hot tray of just out-of-the-pot crawfish is divine, but I once ordered boiled crawfish in a fancy big city restaurant and a dozen whole crawfish came out on a platter of ice.  Blasphemous!
#8 Boudin is not spelled Boudain.
C'mon, Texas.  If you love our food so much then learn how to spell it.
#9 White Rice Is Always On The Table.
White rice is king! Cajuns love their rice, and a pot of steaming Louisiana white rice is sure to make
an appearance at most every occasion.
#10 Red beans on Monday, Catfish on Friday and Ice-Cold Beer any day of the week.
Cajuns love tradition and the Holy order of things in the universe.
#11 Louisiana yams! The sweetest potato of all.
Yam right! Cajuns love their sweet potatoes, and you're sure to see them on the dinner table often.
So, this is just the start.  I've got dozens more, and I want to hear from you.  Do you agree?  Disagree?  And more importantly, help me add to the list with your authentic Cajun suggestions.  Let the discussion begin.