Acy Cooper, Jr. is a shrimper, a third-generation shrimper, to be exact. At the age of 15, Acy began making a living on the waters of Plaquemines Parish along coastal Louisiana. Now, over 35 years later, he continues to bring the highest quality Gulf shrimp from his boat to your table. Based in Venice, LA, he markets his shrimp under the Lacy Kay Shrimp Co. brand
As Acy puts it, shrimping is in his blood, and this hard-working fisherman is proud of the heritage of Louisiana's coastal fishing community. And when Acy isn't on the water, he spends his time advocating for the industry as president of the Louisiana Shrimp Association.
As the season for white shrimp—white gold, he calls it—opens in mid-August, you can look for Acy online at Louisiana Direct Seafood, where he alerts his customers with updated reports on his catch. On the website, information is just a click away.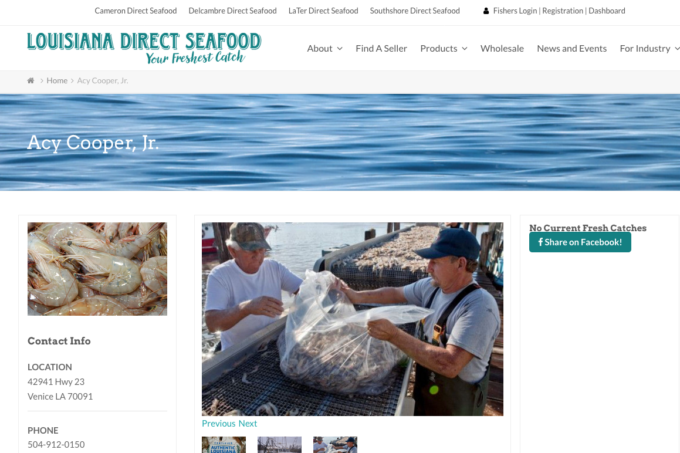 When, where, what size, and how much are the common questions answered by Acy and other fishermen as hungry customers look to buy the freshest catch available. Whether it is a retailer, restaurant owner, or a home cook, Louisiana Direct Seafood matches buyers and sellers with quality Gulf seafood.
Be sure to connect with Acy Cooper and many more coastal Louisiana fishermen by accessing the contact information on the Louisiana Direct Seafood website. It's a free service, and it's nice to know that you are helping to support the many fishing families that are the foundation of our Louisiana seafood industry.
Acy Cooper
42941 Hwy 23
Venice LA 70091
504-912-0150
This Boat-To-Table series of stories, recipes, and information about our seafood industry is brought to you in support of Louisiana Direct Seafood, a free program of Louisiana Sea Grant and LSU Ag Center.
YOUR SEAT AT THE TABLE:  If you like this Louisiana cooking story and recipe, then accept my invitation to subscribe by entering your email at the bottom or top right of this page.  It's quick and painless.  You will receive an email alert and be the first to see when I add new Louisiana cooking stories and recipes.  Thanks, George.