You won't find a rural Cajun lunchroom that doesn't have sausage and gravy on the steam table. The dark roux gravy clings to the chunks of pork and covers a mound of rice with a thick cloak of goodness. It is simple; it is heavenly.
My wife's grandmother, Mo Mo Eve Fontenot, made this lunchtime dish often and filled her family with a hot meal and warm memories. And Roxanne has passed this recipe down to a new generation who can't get enough of these hearty flavors.
The essential ingredient is to source quality fresh sausage. I'm not talking pre-cooked, smoked sausage, but rather, a raw pork sausage stuffed into a casing. In Cajun country, this is available at every grocery or meat market. It comes in a variety of versions and spice levels, such as green onion sausage, jalapeno sausage, and even syrup sausage. I stick with a simple pork sausage seasoned mild; I want the roux gravy and onions to build bold flavor.
A key to slicing the sausage is to make sure it is ice-cold. Slicing through room-temperature sausage risks breaking up, but chilled links will hold together. The onions must be cut into thick slices and browned to release their sweetness. It is the sugars of the onions that balance the deep flavors of this dish.
And the deeper, darker, and richer the roux, the better this dish will be. That's why I use Rox's Roux—a Certified Louisiana product. The outcome is consistent and ensures quality.
Rox's Roux is available online in our Acadiana Table STORE or at the following South Louisiana retailers:
Heleaux's Grocery
3002 Verot School Rd, Lafayette, LA 70508
337-856-7872
Billeaud's Grocery
111 E Main St, Broussard, LA 70518
337-837-6825
The Kitchenary
456 Heymann Blvd, Lafayette, LA 70503
337-264-1037
Champagne's Market in the Oil Center
454 Heymann Blvd, Lafayette, LA 70503
337-235-4114
Caroline & Company
1800 Kaliste Saloom Rd., Suite 100, Lafayette, LA 70508
337-984-3263
Little Verons
403 Rena Drive, Lafayette, LA 70503
337-981-0098
Bonjour Gifts
124 N. Morgan Av., Broussard, LA 70518
337-330-4343
Champagne's Supermarket – Erath
202 S. Kibbe St., Erath, LA 70533
337-937-8163
Champagne's of Abbeville (formerly Robie's Food Center)
604 S State St., Abbeville, LA 70510
337-893-4354
Market Eatz
819 E Broussard Rd Suite 101, Lafayette, LA 70508
337-565-3289
Give this simple dish a try, and I am confident you will add this to your recipe repertoire.

Pork Sausage in Roux Gravy
Ingredients
8 (6-inch) links fresh pork sausage, about 2 pounds
2 tablespoons vegetable oil
2 large yellow onions, thickly sliced into rings
1 teaspoon white pepper
1 teaspoon onion powder
1 teaspoon salt
1 teaspoon Acadiana Table Cajun Seasoning Blend, see recipe here
3 cups chicken stock
2 (heaping) tablespoons dark Cajun roux, such as Rox's Roux
¼ cup chopped flat-leaf parsley
¼ cup diced green onion tops
4 cups cooked long-grain white rice, such as Supreme, for serving
Hot sauce, for serving
Instructions
Refrigerate the sausage links until chilled. Slice into 2-inch portions.
In a cast-iron pot with a tight-fitting lid over medium-high heat, add the oil.
Add the sausage links to the hot oil in batches and brown on all sides, about 15 minutes. Remove from the pot.
In the remaining oil, add the onion slices. Cook until wilted and beginning to brown, about 10 minutes.
Add the sausage back to the pot and season with white pepper, onion powder, salt, and Cajun seasoning.
Add the stock and roux; stir to combine.
Turn the heat to a simmer, cover, and cook until the sausage is cooked through and the gravy has thickened to coat the back of a spoon, about 1 hour.
Just before serving, add the parsley and green onion tops to the pot; stir to combine. Serve over rice with hot sauce on the side.
Notes
Fresh pork sausage is uncooked (do not use smoked sausage) and comes in various spice levels, so use your discretion. You can make your roux from scratch by following
the recipe here
.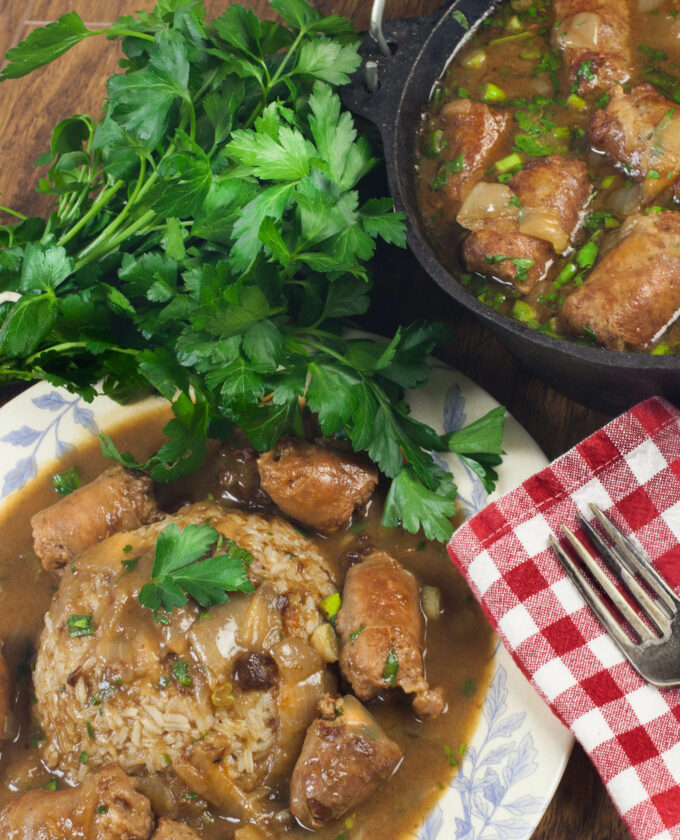 YOUR SEAT AT THE TABLE:  If you like this Cajun cooking story and Cajun recipe then accept my personal invitation to subscribe by entering your email at the bottom or top right of this page.  It's quick and painless.  You will receive an email alert and be the first to see when new Cajun cooking stories and Cajun recipes are added.  Thanks, George.